The Transnational Doctoral Programs for Leading Professionals in Asian Countries
Through the Asian Satellite Campuses Institute (ASCI), Nagoya University is offering special research-based doctoral programs which primarily target professionals in government positions, and academic institutions from select Asian countries who have already completed a master's degree and wish to earn a doctoral degree. This is a doctoral program which provides an opportunity for participants to deepen their knowledge and experience and work towards a doctoral degree through Nagoya University without having to take time out from their career. The progam is designed to meet the needs of the evolving and dynamic Asian region.


ASCI has been established to implement the Transnational Doctoral Programs for Leading Professional in Asian Countries initiative in select countries. Through the extensive use of technology and our dedicated staff, ASCI forms the essential link between the Transnational Doctoral students and Nagoya University's main campus.
 Asian Satellite Campus Locations
Nagoya University Asian Satellite Campuses Institute
Satellite Campus Locations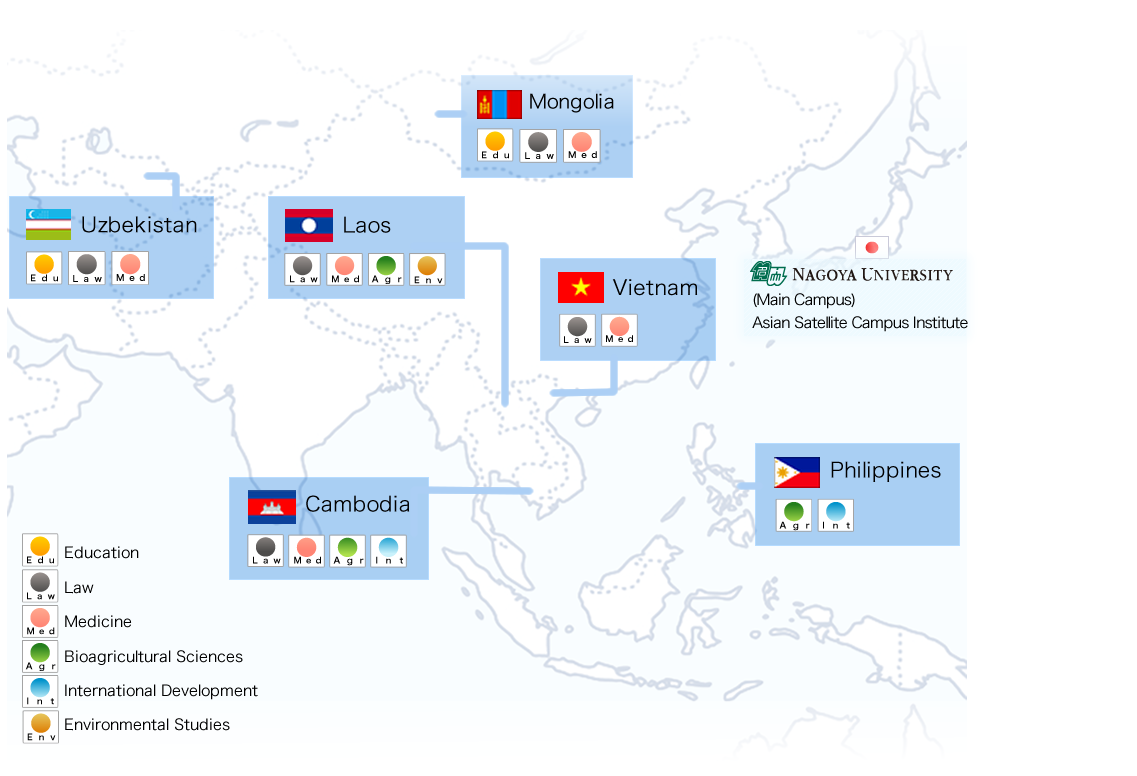 The program offers;

Close research supervision by academic advisors and other main campus support staff
Regular tuition via cutting edge distance education and communications tools
In-country academic and technical support
Fully funded short-term intensive academic seminars at main campus in Japan
All instruction, advising and writing is conducted in English
 Degrees Offered through the ASCI Program
Fields of the programs

Degree

Course term

Graduate School of Education and Human Development

Educational Sciences, Psychology and Developmental Sciences

Doctor of Philosophy (Education)
Doctor of Education
Doctor of Philosophy (Psychology)

3years

Graduate School of Law

Legal institution design

Doctor of Laws (Comparative Law)

3years

Graduate School of Medicine

Healthcare administration

Doctor of Philosophy (Medical Science)

4years

Graduate School of Bioagricultural Sciences

Food production and agricultural development

Doctor of Agricultural Science

3years

Graduate School of International Development

Economic and social development

Doctor of Philosophy (International Development)

3years

Graduate School of Environmental Studies

Environmental problem and environmental policy

Doctor of Environmental Studies
Doctor of Geography
Doctor of Economics
Doctor of Laws

3years
 Programs Offered at a Glance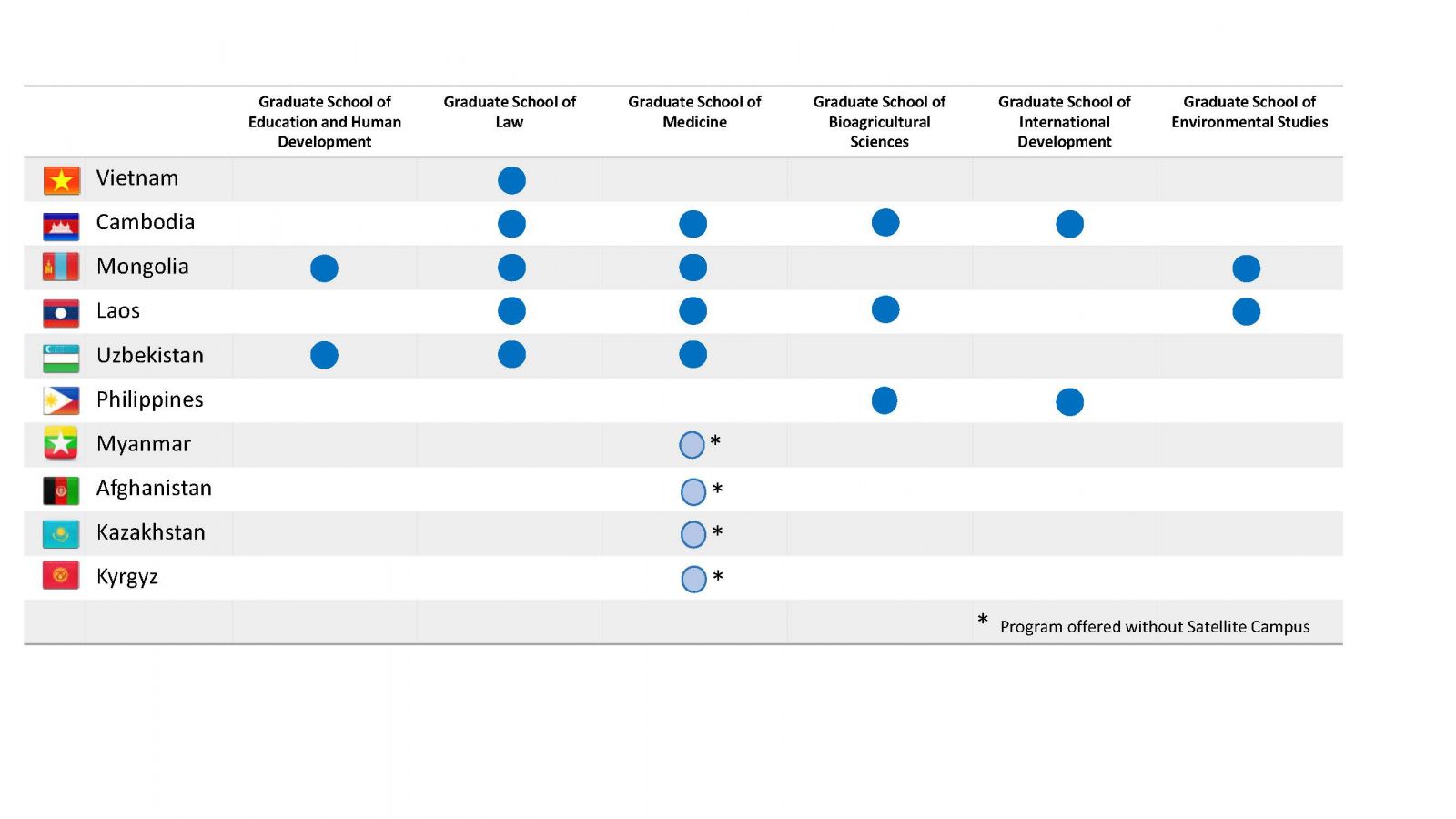 Message from the ASCI Director

Dr. Akira Yamauchi
The Nagoya University Asian Satellite Campuses Institute (ASCI) has developed the Transnational Doctoral Programs for Leading Professionals which was further enhanced under the strong leadership of Director Fumio Isoda whose term was October 2014 to March 2021. The ASCI program has established satellite campuses in the six countries of Cambodia, Vietnam, Mongolia, Uzbekistan, Laos and the Philippines. These campuses work close collaboration with six graduate schools at Nagoya University including the Graduate School of Law, the Graduate School of Medicine, the Graduate School of Bioagricultural Sciences, the Graduate School of International Development, the Graduate School of Environmental Studies and the Graduate School of Education and Human Development.

The ASCI program has accepted students from national government agencies, universities and international organizations. This educational program has inherently adopted various methods of teaching and research supervision online and remotely and it has proven their usefulness and challenges, and the effectiveness of combination of online with face-to-face methods, which differ with the nature of disciplines.

In research, we have shown that we can produce research outputs that are higher in quality and originality than others by collaboratively conducting research supervision with Asian researchers and educators. Such achievement would possibly develop further by working under the scheme of the Tokai National Higher Education and Research System which was launched in April, 2020.

Specifically, we have conducted research with high originality, which can be achieved only in Asia by working with Asian researchers and educators. Students enroll in our program with accumulated experiences and background information after having tackled with their social problems. As such, our program has helped doctoral candidates to identify problems that actually exist in the society and to research viable solution with the help of scientific methods. Such results have been published in international academic journals.These research subjects can be further studied with the students and their supervisors as soon as the students have completed their PhD research and obtained the degree. Furthermore, such students can work with supervisors to expand on their studies after completing their PhD. As such, the Transnational Doctoral Programs for Leading Professionals has now entered into the next stage with these graduates as focal researchers.

Based on these accomplishments, a number of scholarship programs have been established with international institutes such as the Southeast Asian Regional Center for Graduate Study and Research in Agriculture, national governments, universities such as the University of the Philippines, Japan International Cooperation Agency, Mitsubishi Tokyo UFJ Bank, and Ohgaki Kyoritsu Bank.

Thus, it is important to establish and maintain a learning environment in our university with which many young people are interested and attracted to study. We, at the Asian Satellite Campuses Institute, have been building on mutual trust and effort for some time now and are determined to contribute further to the development of international activities/programs of this university. We hope to not only strengthen our role in the university but to function as a research hub in Asia and so, would appreciate very much your cooperation and support.


Director Akira Yamauchi
Asian Satellite Campuses Institute