Nagoya University confers doctoral degrees to new Filipino graduates of its Asian Transnational Doctoral Programs
NEWS
2022/10/12
Nagoya University confers doctoral degrees to new Filipino graduates of its Asian Transnational Doctoral Programs
Four doctoral graduates of the Nagoya University Asian Satellite Campuses Institute (NUASCI)at Nagoya University (NU), Japan are the new addition to the roster of alumni since the launching of the Asian Satellite Campus- Philippines hosted by the University of the Philippines Los Banos (UPLB) in 2015.

Fresh from receiving their diplomas after their research presentation during the graduation ceremony at the Symposion Hall, Toyoda Auditorium on 27 september 2022 are : Dr. Kim Nyka C. Perdiguerra, Doctor of Bioagricultural Science (Plant Production Science); Dr. Marjorie P. de Ocampo, Doctor of Bioagricultural Science (Plant Production Science); and Dr, Anniver Ryan P. Lapuz, Doctor of Bioagricultural Science (Forest and Environmental Resources Science). Meanwhile, Dr. Rhea Mae P. Maningo, Doctor of International Development (International Cooperation Studies) was conferred the degree on 25 March 2022.

Dr. Perdiguerra is currently a University Researcher I of the Crop Science Division, Institute of Crop Science(iCrops), College of Agriculture and Food Science (CAFS), UPLB. She started her program in 2018 and conducted research on "Narrowing Yield Gaps in Rice Production in the Philippines Using Genotype by Environment by Management Approach." Her adviser from NU is Associate Professor Shiro Mitsuya of the NU Graduate School of Bioagricultural Sciences (GSBS) while her local supervisor in UPLB is Professor Pompe Sta. Cruz of the Icrops, CAFS.

Dr. De Ocampo is an Associate Scientist at the Molecular Breeding, Rice Breeding Innovations-Traits for Challenged Environments of the International Rice Research Institute (IRRI), Philippines. She started her program in 2018 and her doctoral research project is on "Identification of Novel QTLs and Introgression through Markr-Assisted Backcrossing for Improved Salinity Tolerance in Rice." Her NU adviser is Prof. Shiro Mitsuya of GSBS and her local supervisor in IRRI is Dr. Amelia Henry, Senior Scientist.

Dr. Lapuz is a Senior Science Research Specialist of the Forest Products Research and Development Institute, Department of Science and Technology (FPRDI-DOST), Philippines. He started his program in 2019 and conducted research on the "Productioin of Novel Cellulosic Material from Tropical Plants. " His NU adviser is Prof. Satoru Tsuchikawa of GSBS and his local supervisor at UPLB is Professor Veronica Migo of the Department of Chemical Engineering, College of Engineering and AgroIndustrial Technology (CEAT), UPLB.

Dr. Maningo is Senior Operations Assistant, Pacific Department of the Asian Development Bank (ADB), Manila. She conducted her research project title, "The Urban Poor's Collective Action and the Quest for a Sustainable Urban Resettlement in the Philippines: A Case Study of Urban Poor from Manggahan Floodway Informal Settler Community in Pasig City, Metro Manila." Her NU adviser is Prof. Wataru Kusaka of the NU Graduate School of International Development (GSID) while her local supervisor at UPLB is Prof. Josefina Dizon of the College of Public Affairs and Development (CPAf).

So far, there are already seven alumni out of the 16 Filipino NU students/scholars admitted to the program as of 27 September 2022.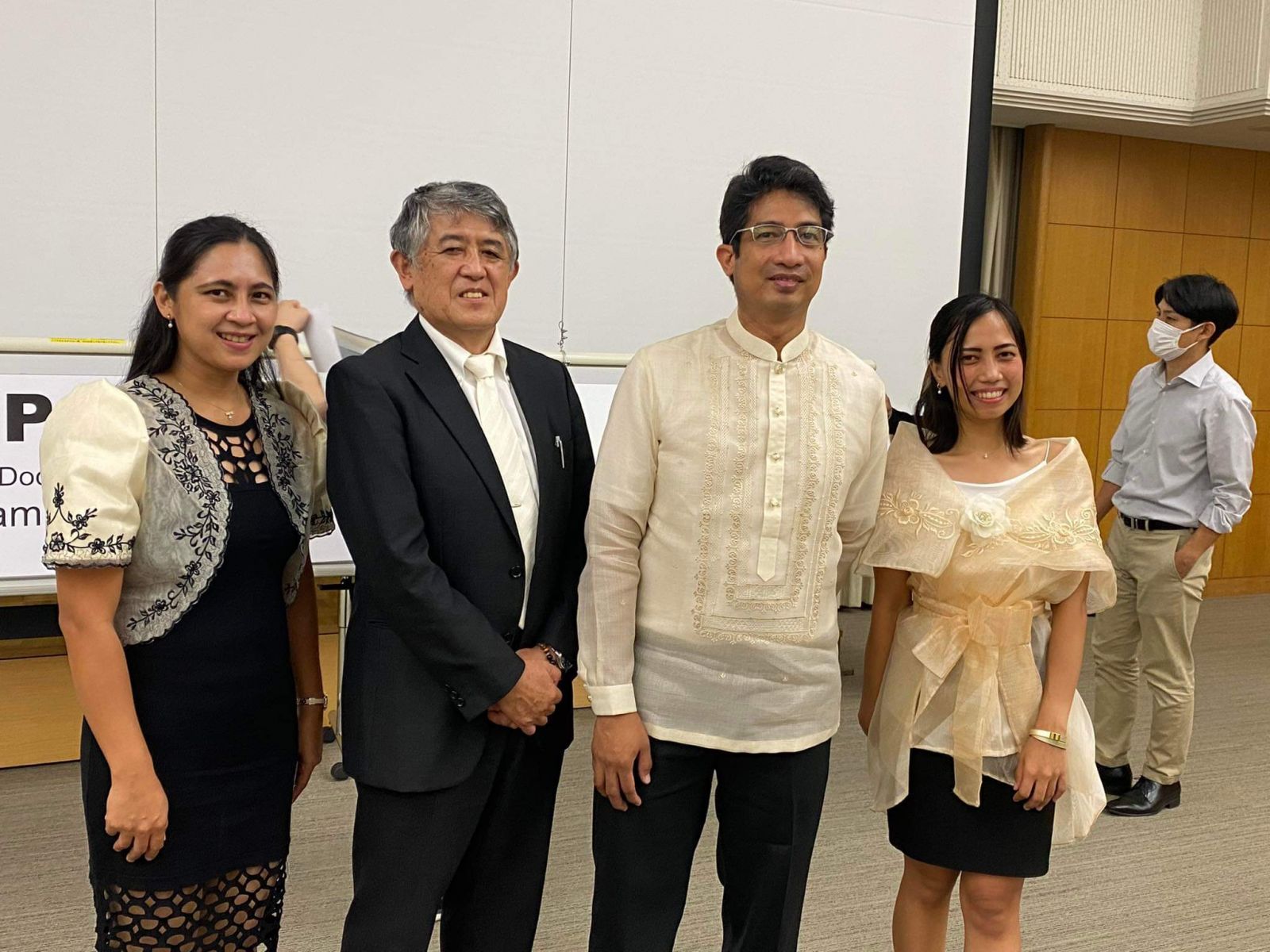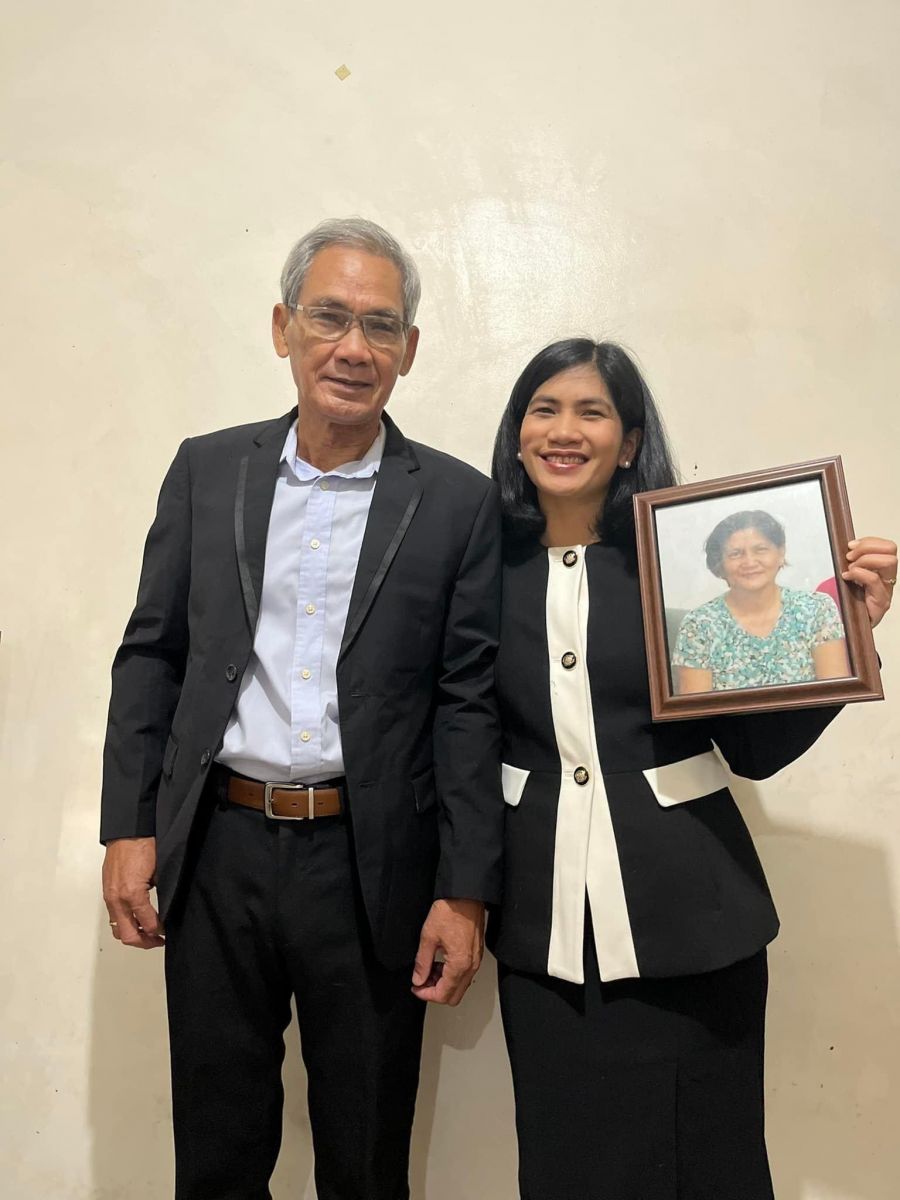 Smiles of Joy and Triumph:
Photo 1- From left to right: Dr. Marjorie P. de Ocampo, Dr. Akira Yamauchi (ASCI Director); Dr. Anniver Ryan P. Lapuz; Dr. Kim Nyka C. Perdiguerra. The three attended the graduation ceremony at Nagoya University on 27 September 2022.
Photo 2- Dr. Rhea Mae P. Maningo holding a photo of her late mother (right) with father, Mr. Honorato Maningo (left). Dr. Maningo attended the online graduation ceremony on 25 March 2022.

Article by E.Cedicol/photos by the scholars