2022/12/23
Nagoya University conducts 2022 Entrance Ceremony; welcomes two new transnational doctoral students at NU Asian Satellite Campus- Philippines
Los Banos, Laguna--- Two new doctoral students from the National Crop Protection Center (NCPC) of the University of the Philippines Los Banos (UPLB), and from the College of Agriculture, Central Luzon State University (CLSU), Muñoz, Nueva Ecija, were officially welcomed at the Nagoya University Entrance Ceremony held on 15 November 2022 at the Umali Auditorium of the Southeast Asian Regional Center for Graduate Study and Research in Agriculture (SEARCA), UPLB Campus, College, Laguna. They are Mr. Freddiewebb B. Signabon, University Researcher III at NCPC, and Mr. Ace Mugssy L. Agustin, Assistant Professor IV of CLSU. Starting this Fall Semester, both students will pursue the hybrid research-based Doctoral Program in Agricultural Science at the Graduate School of Bioagricultural Sciences (GSBS) under the Nagoya University Transnational Doctoral Programs for Leading Professionals in Asian Countries.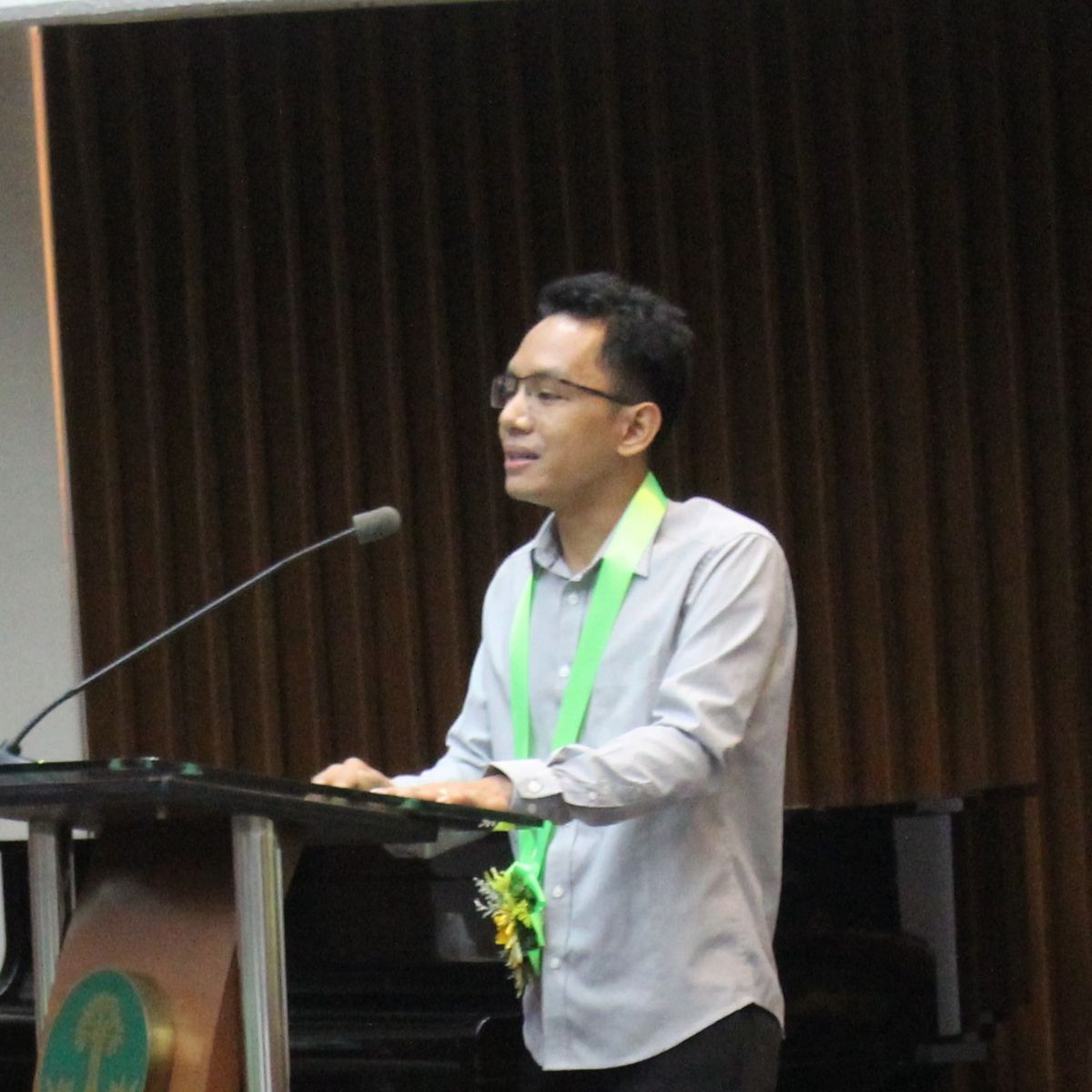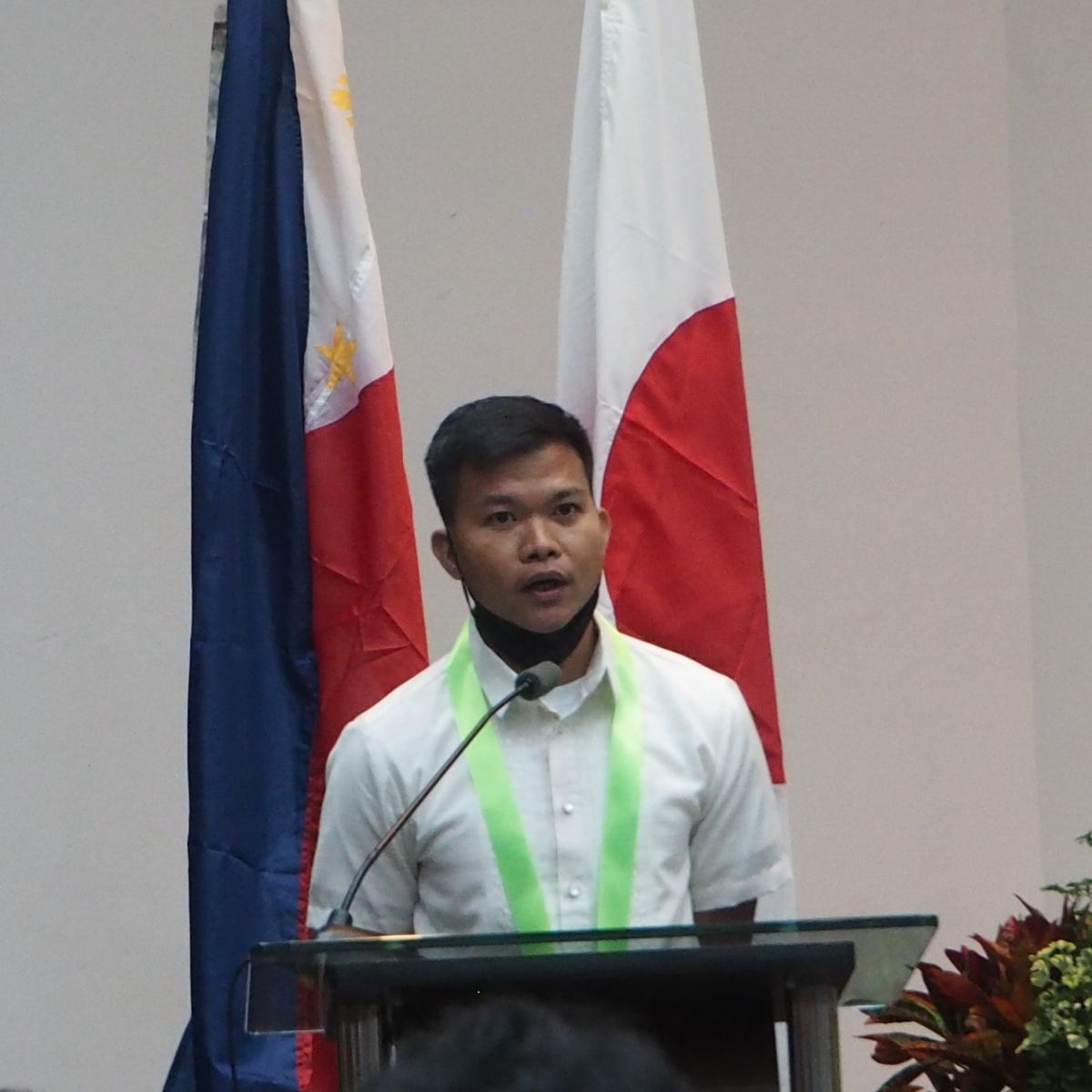 Mr. Freddiewebb B. Signabon Mr. Ace Mugssy L. Agustin

Mr. Signabon will specialize in Plant Pathology, while Mr. Agustin will specialize in Plant Bioresources, both under the Plant Production Science Department of NU-GSBS.

In his video message to welcome the new students and guests, NU President Dr. Naoshi Sugiyama, thanked UP President Danilo Concepcion, UPLB Chancellor Jose V. Camacho, Jr., and the former Chancellor Dr. Fernando Sanchez, Jr. for hosting the NU satellite campus and for providing support through the NU-UP Joint Scholarship Project. He said that the Philippines is one of NU's most important partner nations in Asia. He also thanked SEARCA, the International Rice Research Institute (IRRI), the Japan International Cooperation Agency (JICA), and the Philippine Department of Science and Technology (DOST) for providing scholarships and research grants to the scholars. He announced that since the establishment of the transnational doctoral programs in 2014 in six countries, 100 students have so far enrolled in the programs and 34 of them have already obtained doctorate degrees. Of this total number of enrollees, 18 Filipino students had been pursuing their doctorate programs since 2016 at the graduate schools of bio-agricultural sciences and international development. President Sugiyama congratulated the four new alumni and welcomed the two new students wishing them the best in their graduate studies.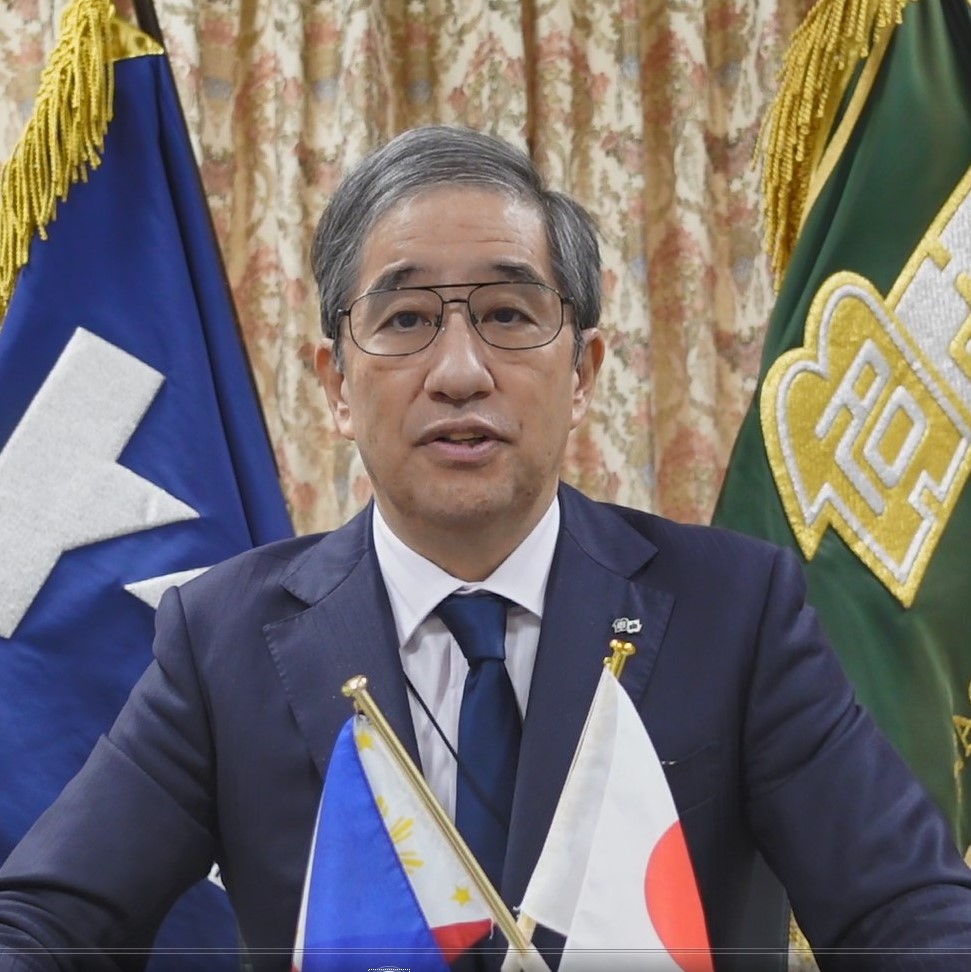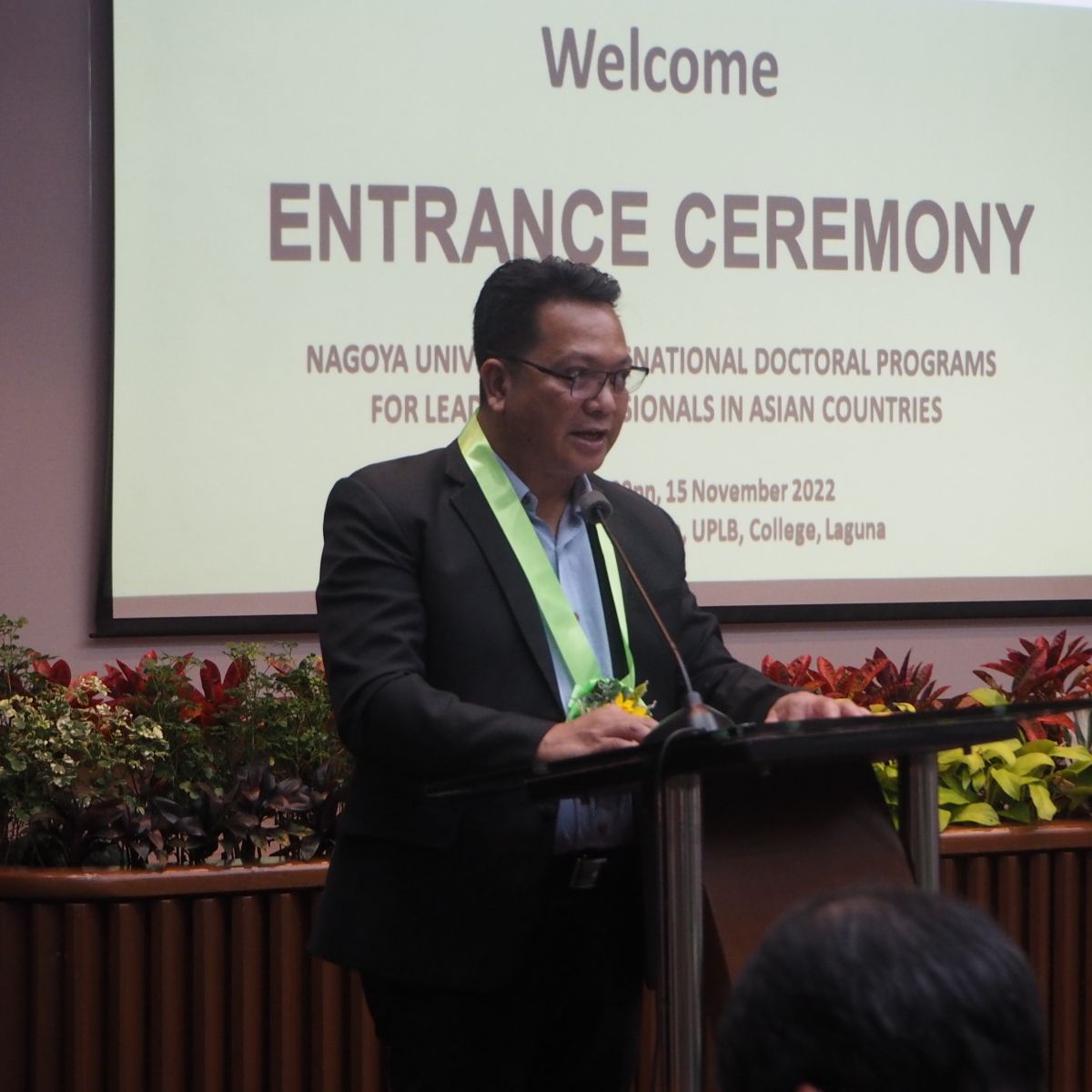 President Naoshi Sugiyama Vice Chancellor Fernando O. Paras, Jr.

Meanwhile, Dr. Fernando O. Paras, Jr. Vice Chancellor for Planning and Development, representing UPLB Chancellor Jose V. Camacho, Jr., warmly welcomed all officials of international and national agencies, guests, students, faculty and alumni and expressed that UPLB is very much delighted with its partnership with Nagoya University and to see the transnational program as well as the satellite campus in the Philippines flourishing so well. He recalled that the satellite campus operations started during his term as the then dean of UPLB Graduate School. He stressed that the continuous upgrading of the UPLB laboratories of crop sciences, animal and dairy sciences, as well as forestry sciences and chemical engineering is a testimony of the strong collaboration between the two universities, He applauded the two new students for choosing Nagoya University through the NUASC-Philippines, and congratulated the four new alumni. He reiterated his strong commitment of support to Nagoya University and looked forward to more fruitful joint activities.

Mr. Shigehiro Matsuda, Director of Japan Information and Culture Center (JICC) at the Embassy of Japan in Manila, congratulated the two new students and expressed gladness "to share the moment during the first step in the exciting new chapter "of their lives. He said that he was happy "to witness the persistent growth of the program since its inauguration," noting that "the partnership between Nagoya University and UPLB has not stopped from striving to be an exemplary platform for growth. He wished for the continued success of the partnership as more public officers take the opportunity to deepen their knowledge in the fields of International Development and Bio agricultural Sciences. He expressed eagerness to see what the students and alumni will accomplish in the years to come and wished them the best as they move forward in their respective careers.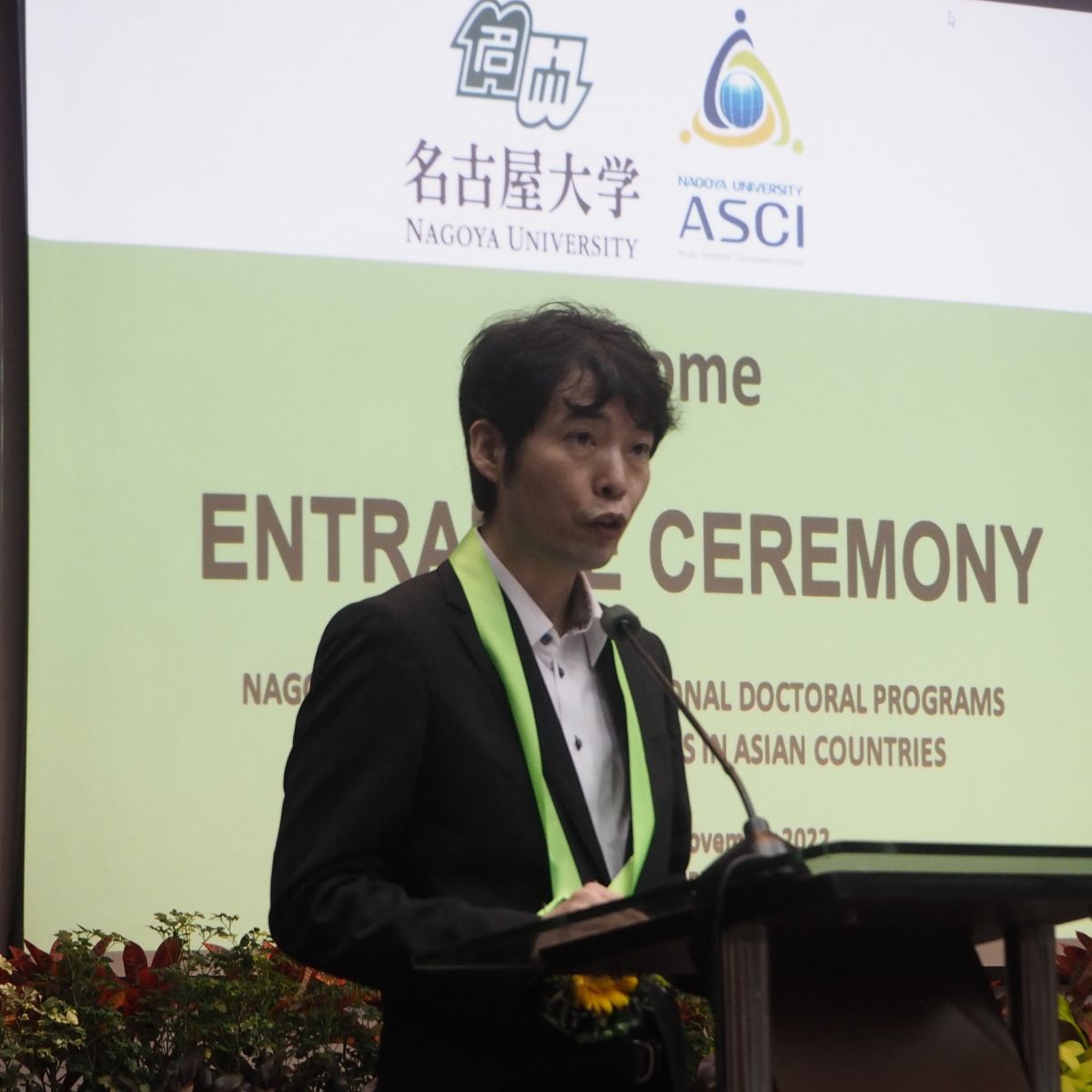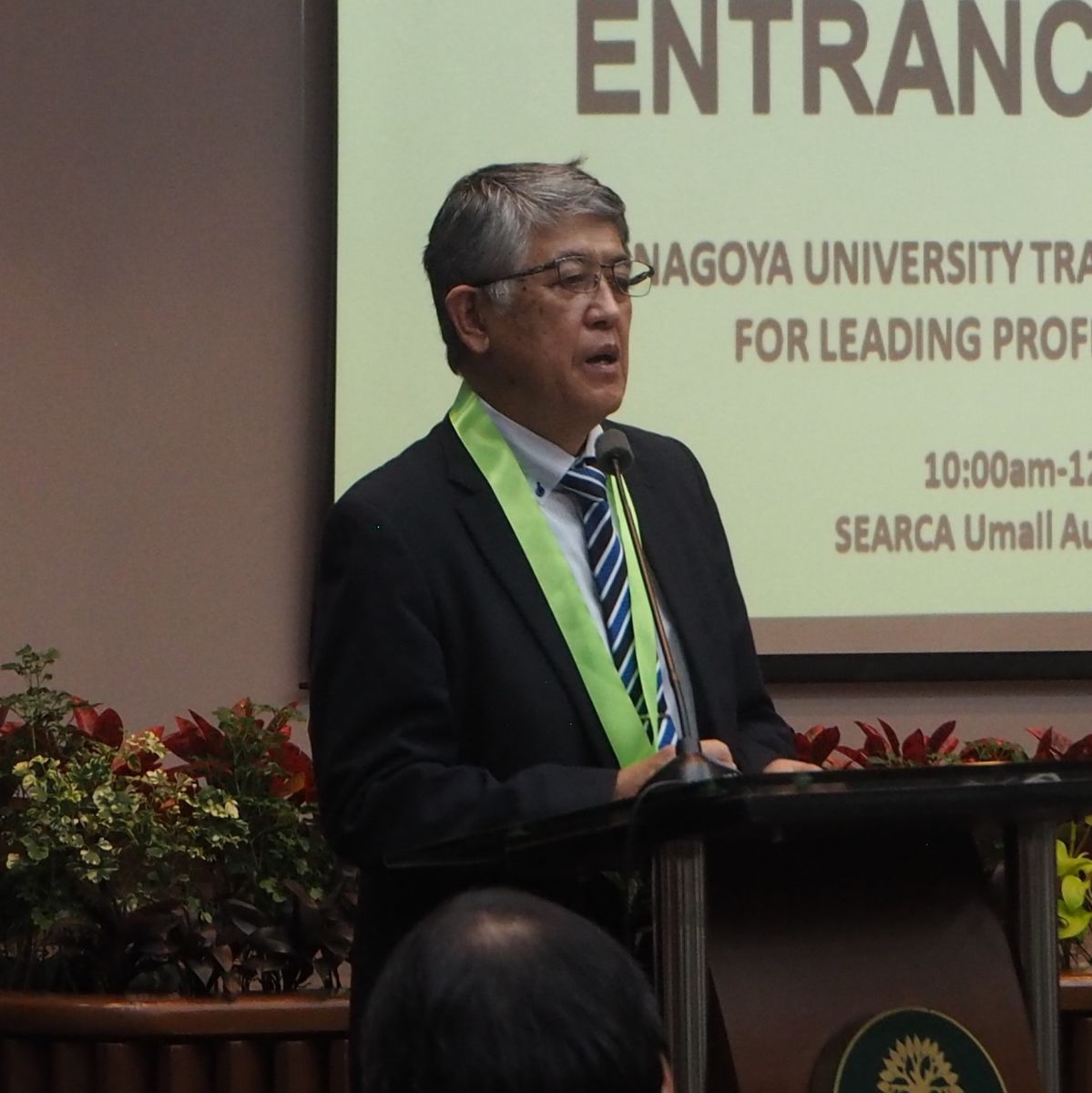 Director Shigehiro Matsuda Dr. Akira Yamauchi

Dr. Akira Yamauchi, Director of the NU Asian Satellite Campuses Institute, informed that he took over the position of Institute Director upon the retirement of Professor Fumio Isoda in 2020. He expressed special thanks to the officials of JICC-Japan Embassy in Manila, UPLB, SEARCA, IRRI, Nagoya University Alumni-Philippines Branch (NUAL-PH), DOST-Science Education Institute (SEI), DOST- Forest Products Research and Development Institute (FPRDI), Philippine Rice Research Institute (PhilRice), and the Philippine Council for Agriculture, Aquatic, and Natural Resources Research and Development (PCAARRD) and all those who attended the ceremony. He gladly announced that the transnational doctoral programs are also being supported by several private companies and banks in Japan. He emphasized that the International Station for Tropical Agricultural Sciences (ISTAS) launched in 2019 as the second phase of ASCI is expected to be in full swing after the provision of equipment and upgrading of research facilities at its central and sub-stations located in UPLB, VSU, both in the Philippines, and the Royal University of Agriculture (RUA) in Cambodia. He said that NU also continues to connect with the Ministry of Education, Culture, Sports, Science and Technology (MEXT) for government-sponsored scholarships for full-time study in Japan. The NU-ISTAS project, which is intended to be a platform for collaborative research and facilities, must be fully utilized by not only NU transnational students and professors but also by NU alumni, partners, as well as other students and academics in the Asian region.

To inspire and encourage new and ongoing NU doctoral students at the ceremony inspirational messages were delivered by two among highly accomplished and well-known leaders. Dr. Glenn B. Gregorio, Director of SEARCA, highlighted the long history of fruitful collaboration between SEARCA and Nagoya University which includes joint scholarships, human resource development, and academic exchanges to promote agricultural and rural development. He stressed the importance of patience, perseverance, persistence and passion as among the important virtues and values that a graduate student must possess in order to succeed. He encouraged the students to "combine innate passions and acquired skills while being open to learn, relearn and even unlearn things along the way." He added that "there is no gain without brain."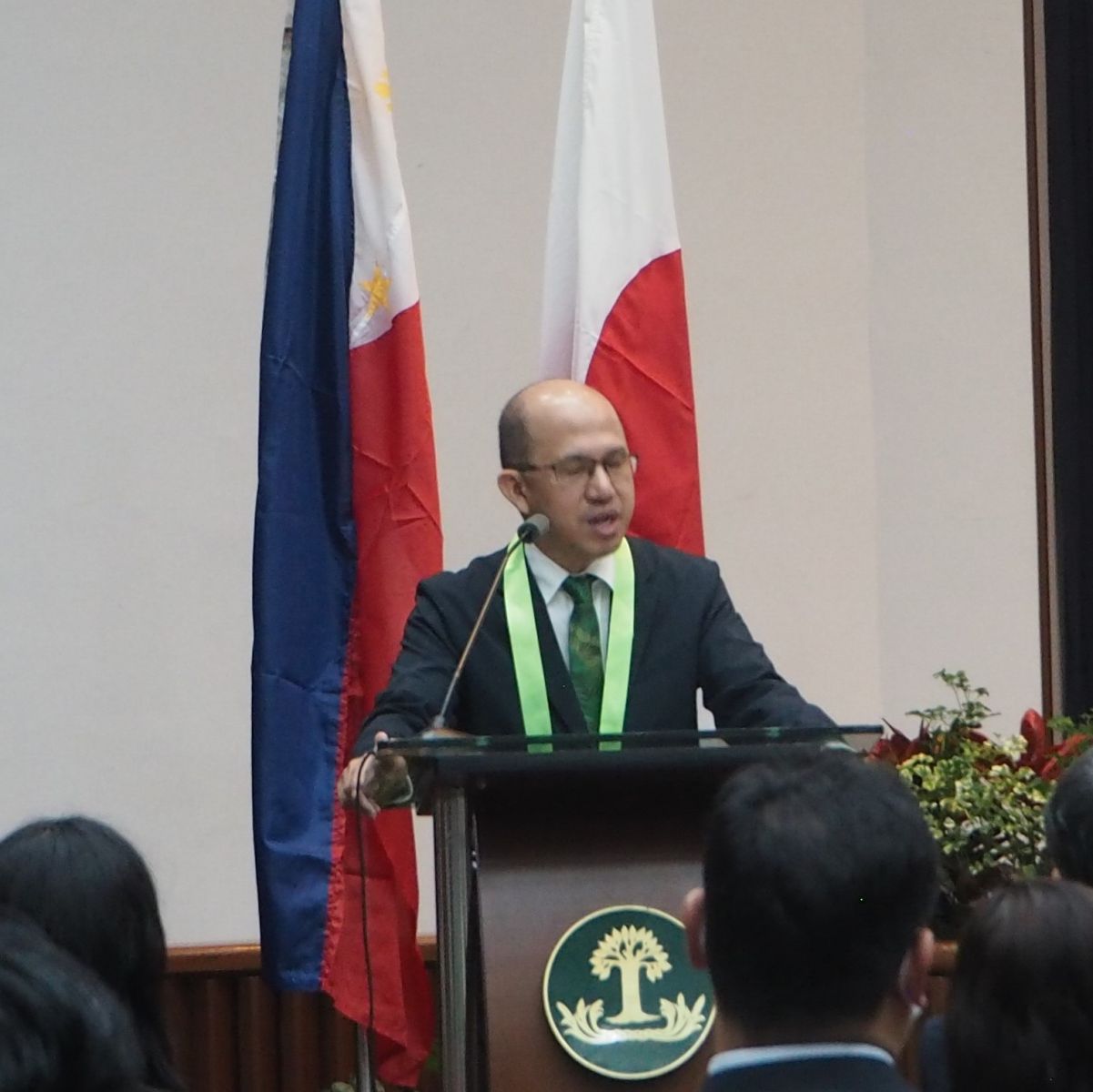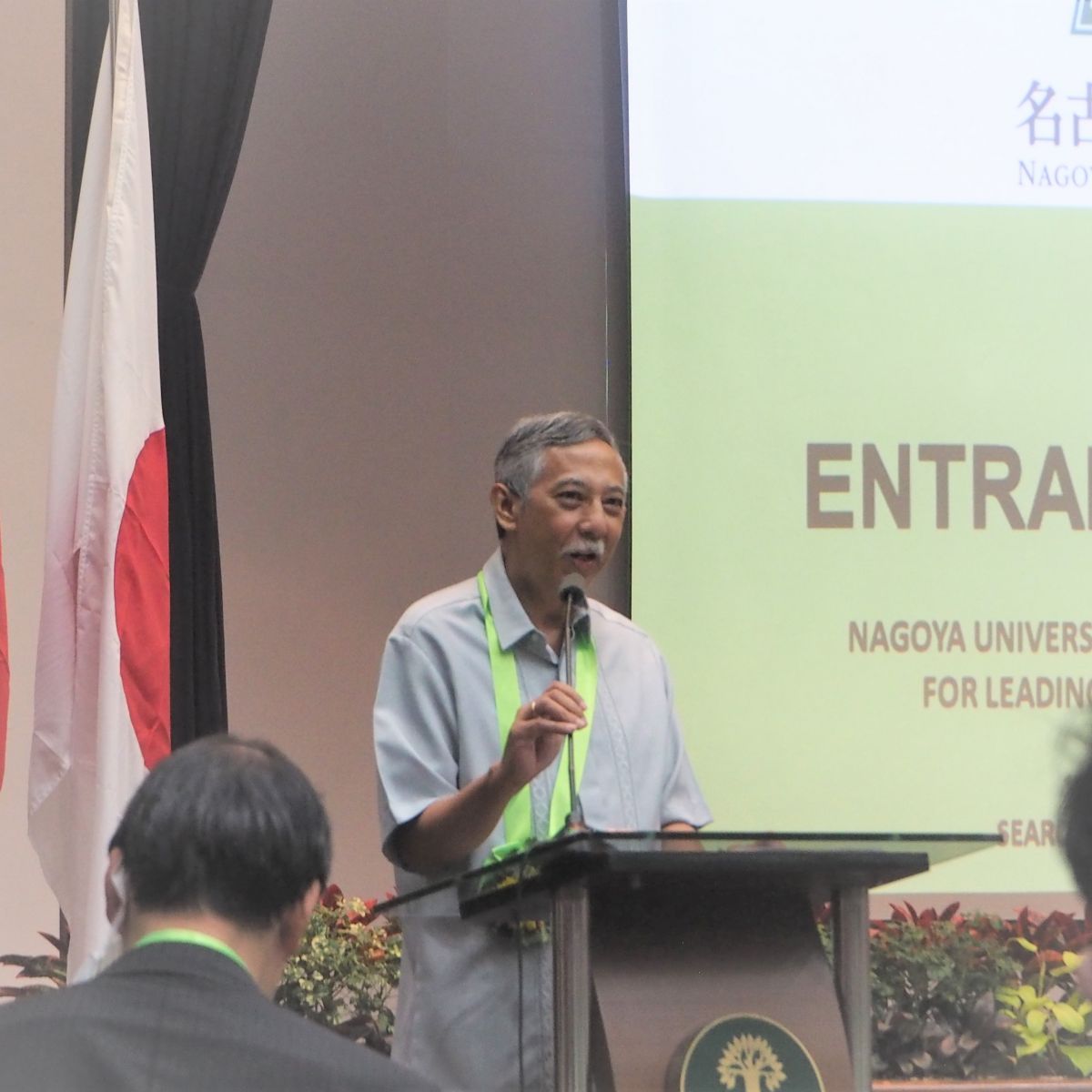 Dr. Glenn B. Gregorio Dr. Andres Winston C. Oreta

Dr. Andres Winston C. Oreta, President of the NUAL-PH, and Professor of Civil Engineering at De La Salle University, Manila, underscored the fact that "being accepted as a graduate student of Nagoya University is already a milestone in their career." He said that Nagoya University is one of the most prestigious universities in Japan and in the world with seven Nobel Prize winners so far. He congratulated the four new alumni and declared the support of NUAL-PH in their academic and scientific endeavor. He hoped that the alumni will unselfishly contribute their time, effort and learnings to society especially through the alumni association, which has been engaged in various activities. He also hoped that the programs in civil and environmental engineering be offered in the future through the satellite campus, and continue the strong relationship with Meidai civil engineering alumni of De La Salle University-Manila.

The four new alumni also shared their stories of pains and challenges while pursuing their study programs and research projects amidst the pandemic in the hope of inspiring the new and ongoing students to honor their commitments to complete their programs. In her speech, Dr. Rhea Mae P. Maningo, Senior Operations Assistant, Pacific Division of the Asian Development Bank, shared that the transnational doctor program allowed her to balance her time between work, family, and dissertation research. It was really challenging but it was the ideal setup for her. She emphasized the important role of the support system composed of family and friends who offered shoulders to cry on when everything was so overwhelming. These and the guidance of her academic supervisors helped her make it through. She said she is so privileged to be among the first batch of scholars of NU ASCI in the Philippines. Dr. Maningo finished the Doctor of International Development at NU-Graduate School of International Development (GSID) with academic adviser, Dr. Wataru Kusaka, and local supervisor, Dr. Josefina Dizon of UPLB's College of Public Affairs and Development.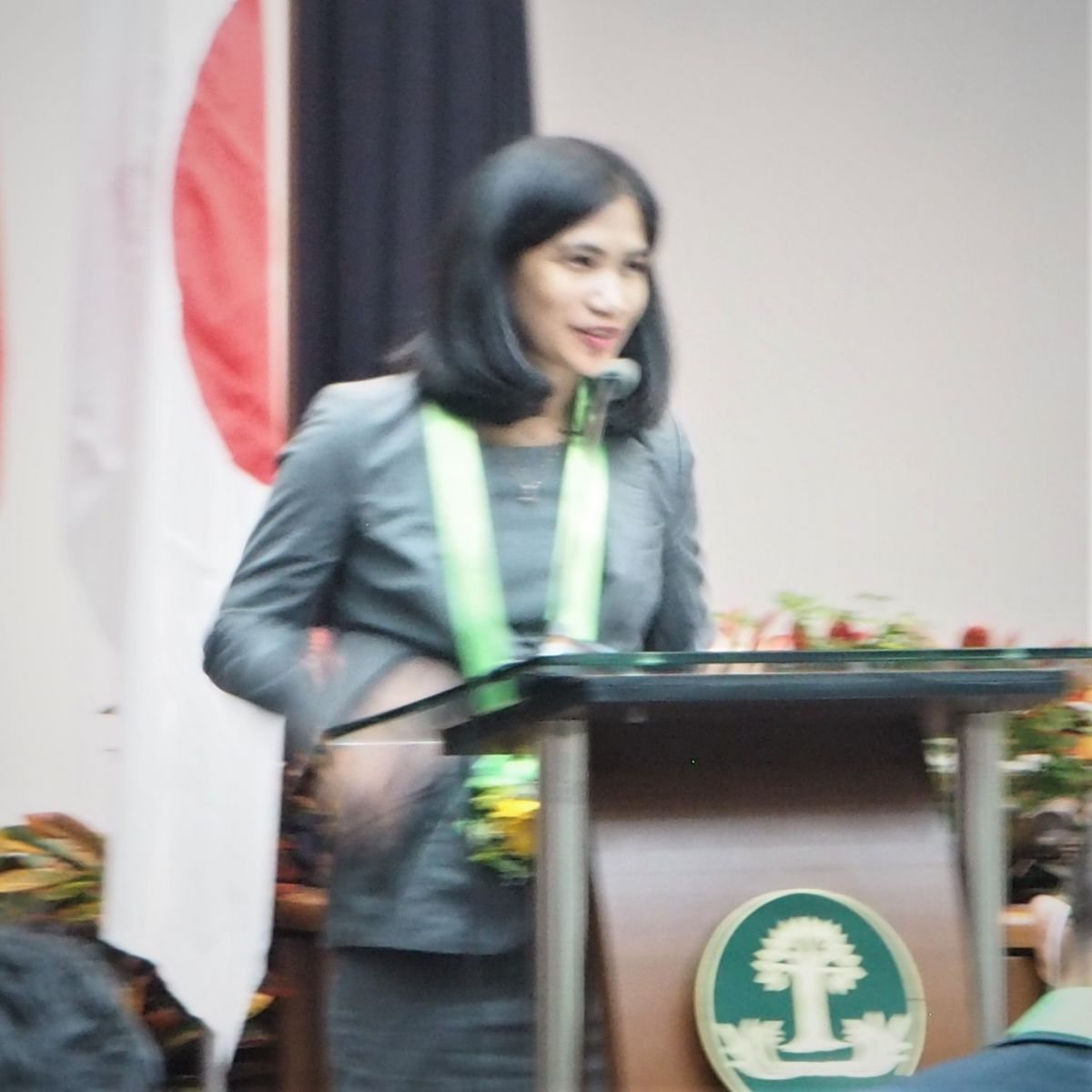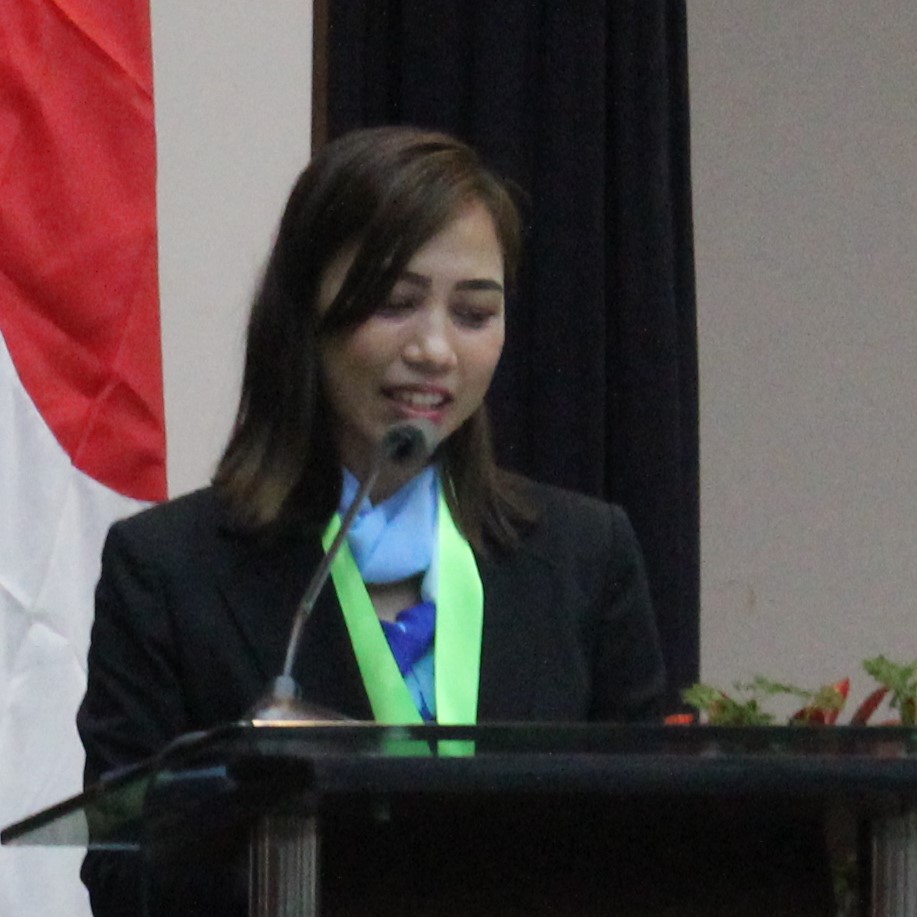 Dr. Rhea Mae P. Maningo Dr. Kim Nyka C. Perdiguerra

Meanwhile, Dr. Kim Nyka C. Perdiguerra, University Researcher at the UPLB Institute of Crop Science, recalled that she faced innumerable challenges during her PhD journey that she thought of giving up. She sadly recounted all her hard work together with that of her advisers and field collaborators that were almost wasted due to office lockdowns and travel restrictions because of the COVID-19 pandemic. She said that from her own point of view as a young professional, this Transnational Doctoral Program is special because she can work full-time while enrolled in the program, thus, enabling her to continue to grow as a researcher while studying. She finished her Doctor of Agricultural Science at NU-GSBS with academic adviser, Dr. Shiro Mitsuya, and local supervisor, Dr. Pompe Sta. Cruz of the UPLB Institute of Crop Science.

Dr. Marjorie P. de Ocampo, Associate Scientist of IRRI, commented that PhD is not an easy journey and that the hardest part of pursuing the degree is maintaining motivation. The last year, according to her was really a challenging and stressful experience due to pressures of meeting deadlines. She said that receiving criticisms about the work is just part of the process and advised the ongoing students to take the comments by heart, continue to improve and to always remember that the academic adviser, local supervisor, family, friends and institution are always there to guide and support. Dr. de Ocampo finished her Doctor of Agricultural Science at NU-GSBS with academic adviser, Dr. Shiro Mitsuya, and local supervisor Dr. Amelia Henry, Senior Scientist of IRRI.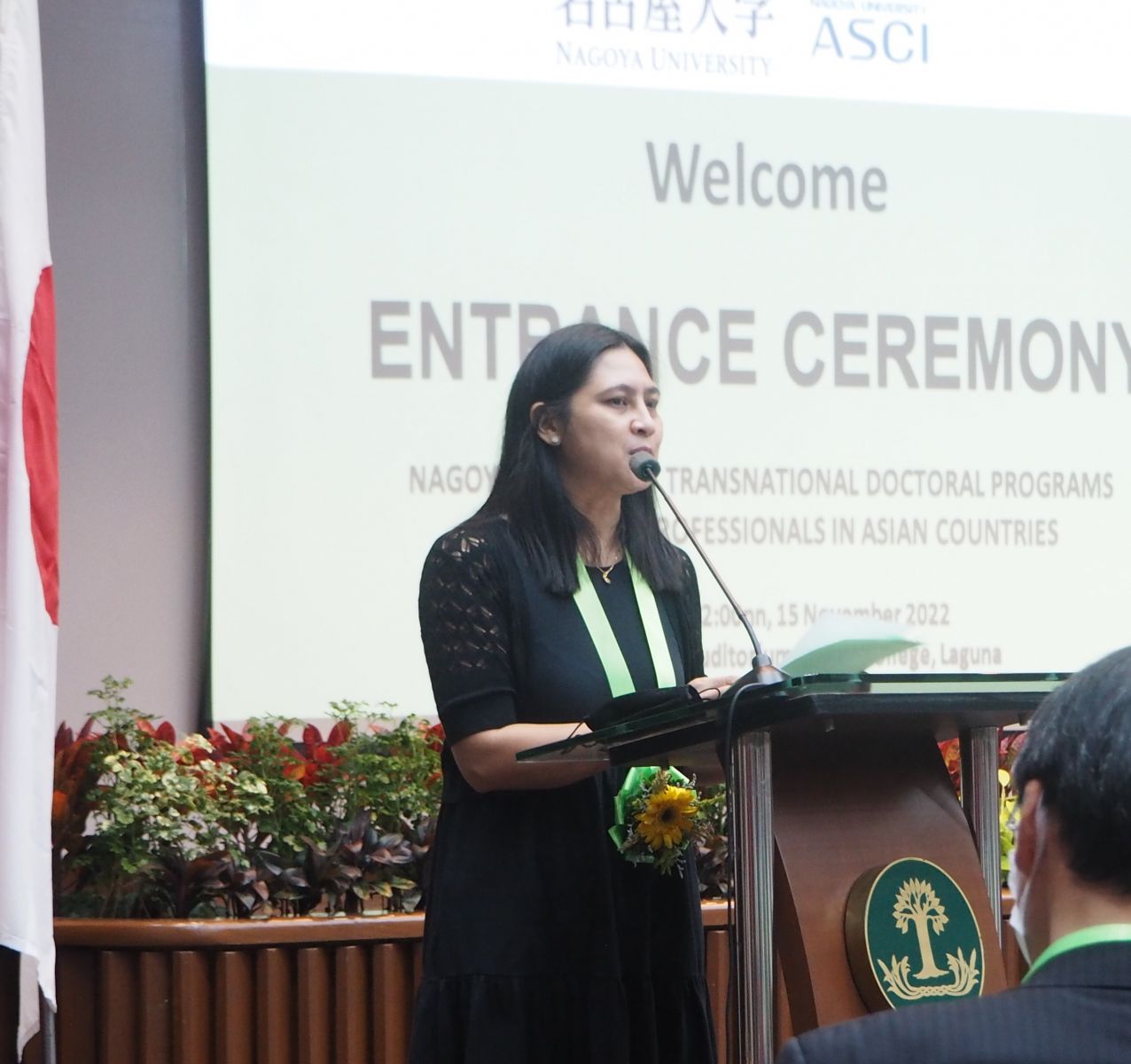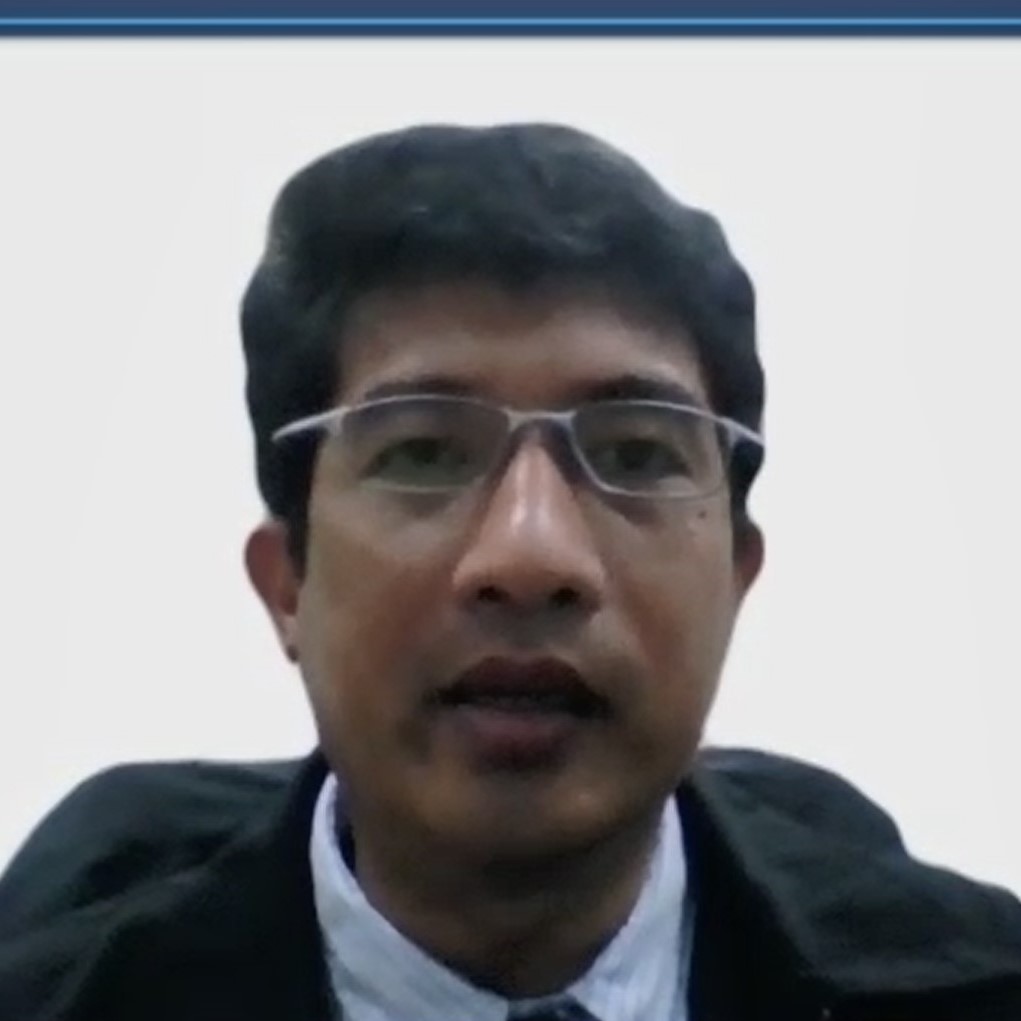 Dr. Marjorie P. de Ocampo Dr. Anniver Ryan P. Lapuz

Dr. Anniver Ryan P. Lapuz, Senior Science Research Specialist at FPRDI-DOST, was not able to attend the ceremony due to the advice of his doctor. Nevertheless, in his video message, he said that from the very beginning his commitment was to finish the degree on time. As always, he said his strategy was to focus and be mindful of the workplan, and to work on a slow pace which is more incremental accomplishment on a day-to-day basis. But due to the covid pandemic, the constant lockdowns that limited the working days, travel restrictions, and closed testing facilities became the major constraints that turned his hopes for on-time graduation to a distant reality. However, with the guidance of his academic adviser, Prof. Satoru Tsuchikawa, and local supervisor, Prof. Veronica Migo of the UPLB Chemical Engineering Department, he succeeded to reach his goal. He advised that the regular meetings with the research team and the constant reminder to focus on work diligently really helped a lot. Dr. Lapuz finished his Doctor of Agricultural Science at NU-GSBS.

Prof. Satoru Tsuchikawa, Dean of NU- GSBS, introduced the two new students, Mr. Signabon and Mr. Agustin. He then asked the academic advisers of both students, Dr. Sotaro Chiba and Dr. Mana Nakata, respectively, to say a few words of advice and to assure the two students of their support and guidance. The two students expressed their anxieties but committed to complete their programs within the period allocated for the degree.

Dr. Satoshi Ohkura, Professor of GSBS, closed the ceremony with a statement of well wishes for the success of the new and ongoing NU transnational doctoral students, and thanked all the guests for coming to witness the ceremony.






(Written by Editha C. Cedicol)