2016/04/25
ASCI-Philippines 2016 Post Symposium News

Globalizing graduate education in ASEAN tackled at joint Nagoya U- UPLB symposium

Manila, Philippines—More than 100 guests from international and regional agencies, state colleges and universities in the Philippines and Japan, gathered in the Sequoia Ballroom at the Acacia Hotel in Manila on 8 March 2016 to listen to the keynote speeches and paper presentations of invited resource persons at the international symposium jointly organized by Nagoya University (NU), Japan and the University of the Philippines Los Baños (UPLB). The theme of the symposium was "Internationalization of graduate education in the context of ASEAN."

NU President Dr. Seiichi Matsuo and University of the Philippines (UP) President Alfredo E. Pascual were the keynote speakers at the symposium.

In his speech, President Pascual said that universities should intensify internationalization efforts if they were to aspire for global standards. He said that with the ASEAN integration, universities should expect that today's graduates of Philippine universities will be challenged by graduates of other ASEAN universities, and therefore the core competencies of the students in relation to global competitiveness should continuously be developed. He also emphasized the need to ensure that the curriculum is consistent with the ASEAN 2015 qualification framework requirements. He challenged UPLB to be a leader in future global intellectual conversations.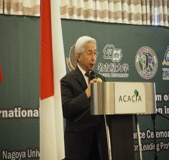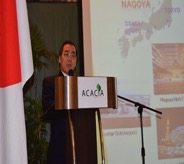 President Pascual President Matsuo

Meanwhile, President Matsuo presented his vision of the universities through his Mirai 2020. He said that Nagoya University is moving towards developing intellectuals with knowledge and skills who can lead and contribute to the welfare of the people; those who can continuously create and discover new knowledge thus looking forward to increase the number of Nobel Laureates; to develop a campus designed to nurture human resources that will grow with Asia and challenge the world; those who can contribute to innovation and social value formation; and those that will institute management reforms through shared governance and leadership. He identified industry-academia-government collaboration as a very important strategy to achieve these objectives.

In the Philippines, reforms and strategic initiatives define the roadmap of the Commission on Higher Education (CHED) which is focused on development of a policy framework for the internationalization of higher education, inclusion of more Philippine universities in the ASEAN University Network; participation in the ASEAN International Mobility of Students (AIMS) Program; and development of a better credit transfer system and diploma supplement, which will enable the comparison of Philippine higher education with those of other countries

At the plenary session, Chancellor Fernando C. Sanchez, Jr. presented his paper on "Responding to the Challenges in Internationalizing the National University: The Case of UPLB." He said the university is positioning itself to be a globally competitive graduate and research university contributing to national development, keeping in mind the UP President's vision of One University, One UP. The following are UPLB's three core objectives: 1) to sustain leadership in academic excellence; 2) to utilize UPLB's knowledge and technologies toward inclusive growth; and 3) to create an enabling environment for creativity and innovation.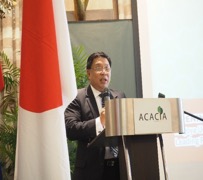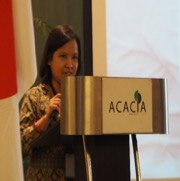 Sanchez Cuaresma

Initiatives of the Southeast Asian Regional Center for Graduate Study and Research in Agriculture (SEARCA) on internationalization of graduate education and research in agriculture and rural development were presented by Dr. Ma. Cristeta N. Cuaresma, Program Head of the Graduate Education and Institutional Development Department. She said that SEARCA continuously assists in producing graduates that could take the lead in addressing emerging concerns such as food insecurity and the damaging effects of climate change. Student and faculty mobility, academic exchange and sandwich programs, double degree programs, and institutional development assistance programs are some of the ways in which SEARCA supports the internationalization of graduate education.

Mr. Hideto Matsumoto of the Japanese Higher Education Bureau, Ministry of Education, Culture, Sports, Science and Technology (MEXT) presented the revitalization strategy of the government which is focused on the economic competitiveness and development of local talents in Japan. The current strategy called "Double student mobility by 2020" expands the acceptance and dispatch of international and local students in big numbers. The industry-academe linkage has been employed to realize the plan.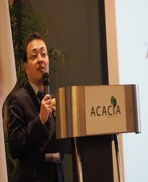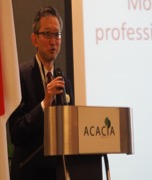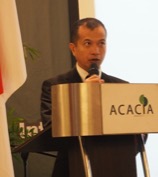 Matsumoto Yonezawa Lambino

Meanwhile, the paper on "Mobility and Development of Research and Professional Community in Asia and Southeast Asia," presented by Dr. Akiyoshi Yonezawa, Associate Professor of the NU Graduate School of International Development explored the landscape of internationalization of education in Asia and explained the triggering factor for internationalization of education among universities. He emphasized the phenomenon of brain drain and brain gain happening in institutions around the world, as well as the brain circulation and brain linkage that ensue, and therefore the need to adjust to these changes through internationalization.

Dr. John Lambino, Senior Lecturer of Kyoto University presented the multidisciplinary approach pursued by its Graduate School of Economics in addressing real-life concerns and problems confronting East Asia. Dr. Lambino highlighted various initiatives that supportinternationalizing education in ASEAN, including the offering of an international graduate program for East Asia that focuses on Sustainable Economic Development Studies, academic exchange programs, the establishment of multidisciplinary research centers, intensive courses, and the young researchers program.

The papers not only presented commonalities in strategies, modalities, and schemes but also new initiatives that may be considered unique to a campus such as: the off-campus programs, Transnational PhD offered in satellite campuses, interdisciplinary study programs, joint degree programs with Erasmus + funding, and institutional development assistance programs.

The following challenges and lessons emerged at the symposium: 1) Internationalization is expensive; 2) Exploring common platforms is not easy; 3) Administrative and institutional barriers; 4) The shift to new systems towards integrating in ASEAN is slow considering the different academic systems and administrative processes involved; 5) Adapting to changes in existing procedures and modes of operation needs effective change in mindsets; and 6) Seeking partners and collaborators is a challenge. Partnerships should be institutional and not individual in order to spread the benefits of collaboration.

Recommendations for next steps included the continuous exploration of possibilities to standardize processes in support of ASEAN integration; review of curricula and setting up of course equivalencies; and the pursuit of research collaboration arrangements within ASEAN to solve critical problems confronting the region.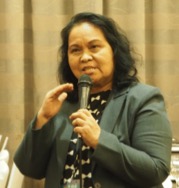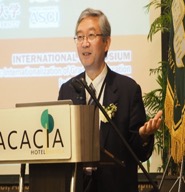 Azanza Watanabe

In her closing remarks, Professor Rhodora V. Azanza (Assistant Vice President for Academic Affairs and Director of Office of International Linkages of UP) congratulated the organizers of the symposium for the substantial knowledge and experiences shared by the speakers and looked forward to continuing the discussions on internationalization in succeeding forums. Meanwhile, Dr. Yoshihiro Watanabe, NU Vice President Trustee, expressed NU's determination to pursue an approach to regional development and sustainability in Asia. Citing the Philippines as one of the most important countries, he stressed that there is a lot of room and potential where all partners are able to plant seeds and then ultimately cultivate the field of human resource. He encouraged everyone to work together and efficiently share resources, including knowledge and human resources, to strengthen Asia's role in the global fight against serious problems such aswidening economic disparity, climate change, natural disasters, and food security. (news article contributed by E. C. Cedicol)


Written by Dr. E. C. Cedicol