2017/04/19
MOU signed between Nagoya University and Ministry of Environment and Tourism of Mongolia
Vice President of Nagoya University, Professor Katsuya Ichihashi and Director of the Asian Satellite Campuses Institute (ASCI), Nagoya University, Professor Fumio Isoda visited the Ministry of Environment, Green Development and Tourism of Mongolia to attend the signing ceremony of a Memorandum of Understanding (MOU) between Nagoya University and the Ministry on March 20, 2017. Led by Professor Katsuya Ichihashi, the delegation of Nagoya University was greeted by Mr. Ts. Tsengel, the State Secretary of the Ministry, as well as various directors of governmental departments and staff members.

Mr. Ts. Tsengel welcomed the delegation and expressed his hope that the MOU will provide an opportunity for the many professionals working in his Ministry to not only deepen their knowledge under the academic guidance of leading Japanese professors, but also obtain a doctoral degree at Nagoya University without having to take time out from their busy careers. Professor Katsuya Ichihashi said that the MOU will support cooperative activities between Nagoya University and The Ministry through projects such as the Transnational Doctoral Programs for Leading Professionals in Asian Countries and the Cooperative Center for Resilience Research. The two parties then exchanged the MOU where they agreed to collaborate in the fields of natural environment, disaster, and environmental policies, by utilizing ASCI's Mongolia Satellite Campus, Nagoya University, and the Ministry`s Institutions (e.g. the Fresh Water Resources and Nature Conservation Center).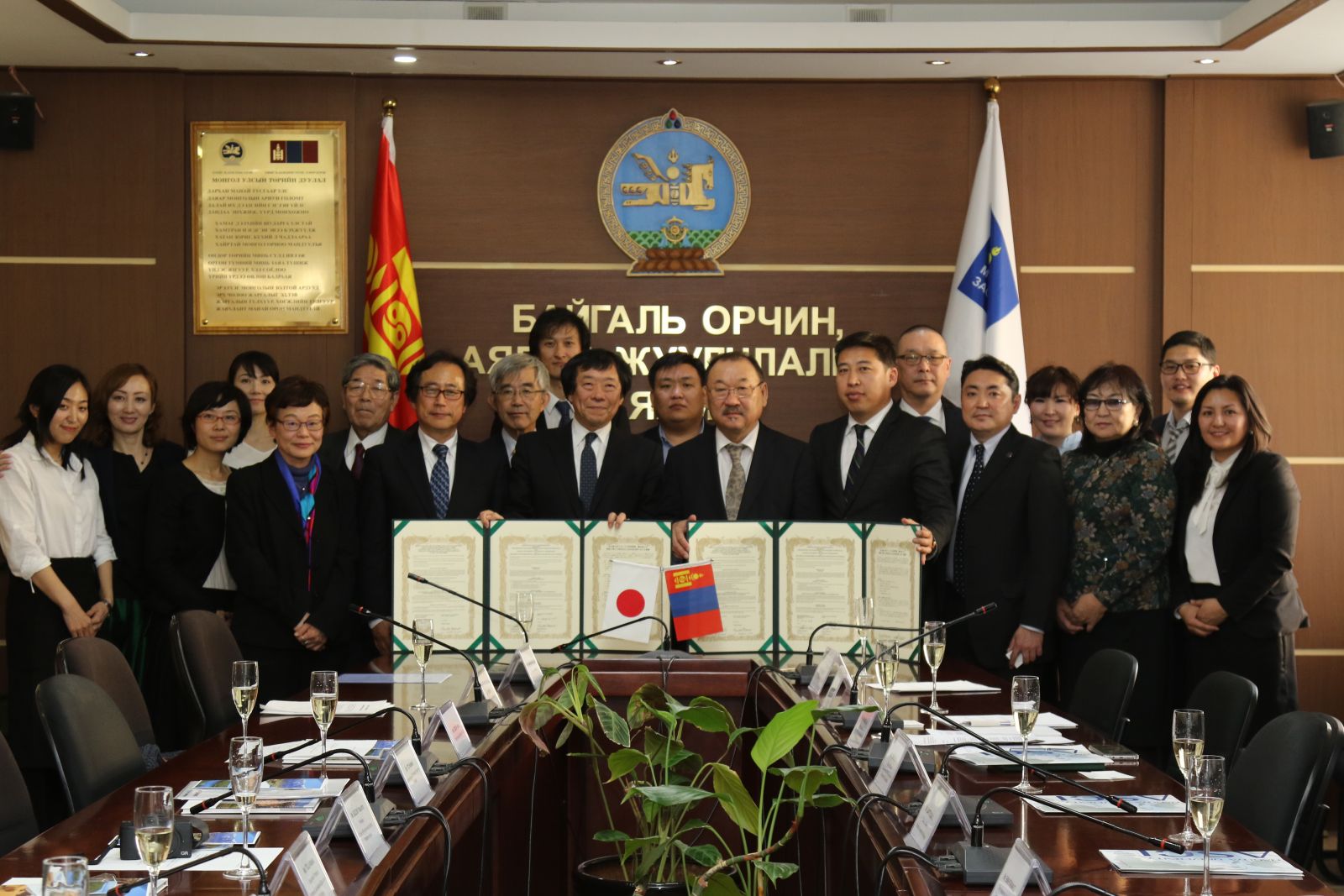 On the same day, the Research and Education Center for Japanese Law in Mongolia commemorated its 10th anniversary. A series of events were held, such as a conference and alumni meeting and other specially organized activities focusing on various aspects of the center`s work over the past ten years. The conference was attended by many distinguished guests including: the Ambassador of Japan to Mongolia, Mr. Takaoka Masato, Chief Representative of the Japan International Cooperation Agency's Mongolia Office, Mr. Sato Mutsumi, Vice President of Nagoya University, Professor Katsuya Ichihashi, Director of the National University of Mongolia, Professor Ya. Tumurbaatar, Director of ASCI, Nagoya University, Professor Fumio Isoda, Dean of the Graduate School of Law, Nagoya University, Professor Mitsuki Ishii, Director of CALE, Nagoya University, Professor Kaoru Obata, and Dean of the School of Law, National University of Mongolia, Professor J. Erdenebulgan.

On March 21, Director Fumio Isoda and Professor Katsuya Ichihashi visited the Mongolian National University of Science and Technology (MUST) and the Mongolian National University of Education (MNUE). During the meeting at MUST, the Vice Director, Professor Ch. Baasandash expressed the desire to continue strengthening cooperation in science, technology and innovation. He invited Professor Hideyo Kunieda, Vice President of Nagoya University, and Director Fumio Isoda to participate in the International Conference on Innovation and Entrepreneurship Development as keynote speakers, during the innovation week, to be held in May, 2017 in Ulaanbaatar, Mongolia. The Director of the MNUE, Professor D. Munkhjargal, welcomed the delegates and discussed opportunities to deepen cooperation between the universities and the jointly established Child Development Support Center at MNUE.