Partnership and linkages to promote collaborative human resource development underscored in Nagoya University entrance ceremony
NEWS
2017/11/07
Partnership and linkages to promote collaborative human resource development underscored in Nagoya University entrance ceremony
Los Baños, Laguna- The Entrance Ceremony for successful Philippine applicants to the Transnational Doctoral Program for Leading Professionals in Asian Countries was held on 24 October 2017 at SEARCA Umali Auditorium, UPLB Campus, Los Baños, Laguna. Distinguished speakers highlighted the importance of partnerships and linkages to promote collaborative human resource development in Asia and around the world.

In his welcome and opening message, Prof. Fumio Isoda, Director of the Nagoya University Asian Satellite Campuses Institute, emphasized that this hybrid doctoral program allows the student to pursue doctoral studies without having to spend three years in Japan. This is a special program that caters to busy working professionals in government agencies who hold positions of leadership, providing them with the opportunity to further their academic studies. Prof. Isoda highlighted the uniqueness of the program, which combines face-to-face and technology-mediated supervision from Japan, the dedicated academic and administrative staff located in the local satellite campuses and in Japan, and the co-advising and support from the host university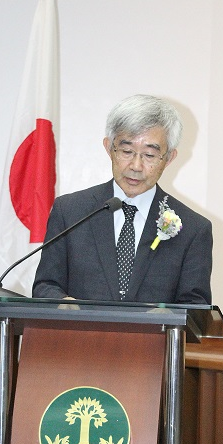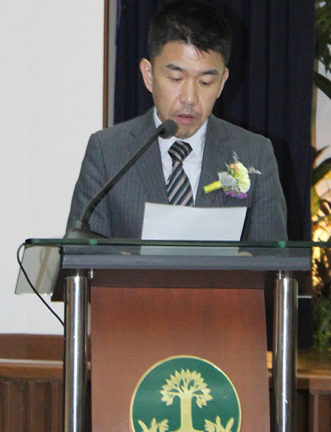 Prof. Fumio Isoda Mr. Toshiyuki Taguchi

Mr. Ken Nakamura, Director of the Information and Culture Center of the Embassy of Japan in the Philipppines, represented by Mr. Toshiyuki Taguchi, commended the growth in number of public officers wishing to deepen their knowledge in the fields of International Development and Bioagricultural Sciences. Mr. Taguchi suggested that this newly-established joint venture between the institutions was closely aligned with Nagoya University's efforts to promote internationalization through linkages with universities throughout Asia. He also believed that the joint venture was a positive contribution towards further strengthening the relations between the Philippines and Japan.

Dr. Fernando C. Sanchez, Jr., UPLB Chancellor, stressed the importance of partnerships and linkages in a world where many challenges can only be addressed through collaborative efforts. He expressed his gratitude to the ongoing growth in exchanges and programs between institutions and asserted that such activities were essential for us to become "better versions of ourselves." He hoped that the "bonds of friendship, mutual academic excellence, and a shared vision of a progressive and prosperous Southeast Asia continue to inspire".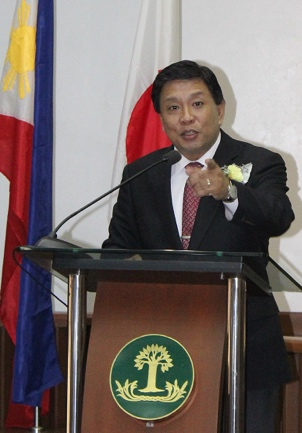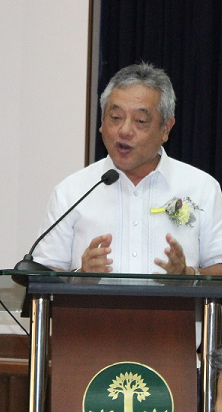 Chancellor Fernando C. Dr. Gil C. Saguiguit, Jr.
Sanchez, Jr.

Dr. Gil C. Saguiguit, Jr., Director of the Southeast Asian Regional Center for Graduate Study and Research in Agriculture (SEARCA) articulated the importance of building capacities of individuals and institutions in the agriculture and rural development sector of Southeast Asia. Dr. Saguiguit mentioned that the NU-SEARCA joint scholarship for the transnational doctoral program initially showcases the strategic linkages between the Asian Satellite Campuses Institute and UPLB. Dr. Saguiguit highlighted the importance of NU as a partner in advancing SEARCA's human resource development efforts towards inclusive and sustainable rural development in Southeast Asia.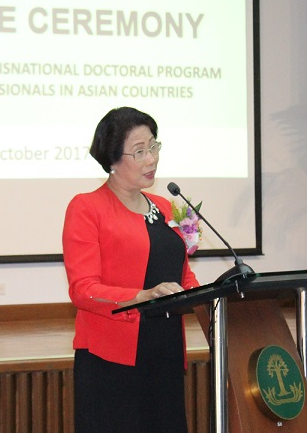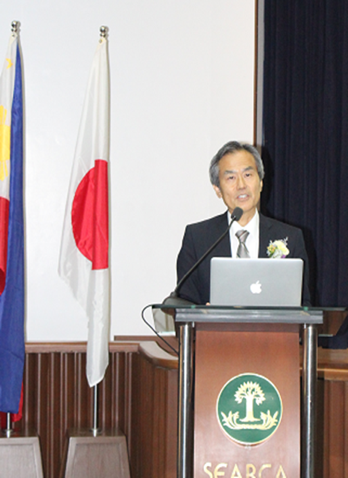 Dr. Pag-asa Gaspilo Dr. Kazuhito Kawakita

Dr. Pag-asa Gaspilo, President of the NU Alumni- Philippines (NUAL-PH) Branch, lauded the administrators of Nagoya University for addressing the dearth of applicants to study in universities abroad. She stressed that by bringing Nagoya University and its graduate programs to UPLB and UP Diliman, it addresses the need to increase talented human resources who find it difficult to leave the country and leave their families behind. She inspired the students to maintain their focus in order to complete their programs and join the NUAL-PH.

Dr. Kazuhito Kawakita, Dean of NU Graduate School of Bioagricultural Sciences, provided a closing message. He reminisced about NU's relationship with UPLB which dates back to the early 70's. He revealed NU's plan to expand research and educational activities in the Philippines as well as throughout the ASEAN region through the satellite campuses. He thanked UPLB for hosting the Philippines satellite campus and for allowing its faculty members to serve as co- advisers of the students. He also indicated that by collaborating with experts on the UPLB CAMPUS, the quality of research and supervision of students would certainly be strengthened and that he looked forward to the further expansion of activities at the satellite campus in the near future.

(contributed by E.Cedicol)