2018/11/20
NUAL-PH President Gaspillo inspires new Filipino Nagoya University PhD students at 2018 Entrance Ceremony
Los Baños, Laguna- To "believe in one's self" and to "remain focused and motivated" were among the best unsolicited pieces of advice that Dr. Pag-asa Gaspillo, President of the Nagoya University Alumni-Philippines (NUAL-PH) Branch, gave to the ongoing and newly admitted PhD students of the NU Transnational Doctoral Programs for Leading Professionals in Asian Countries during the university's Entrance Ceremony held on 9 November 2018 at the SEARCA Auditorium, UPLB Campus, College, Laguna.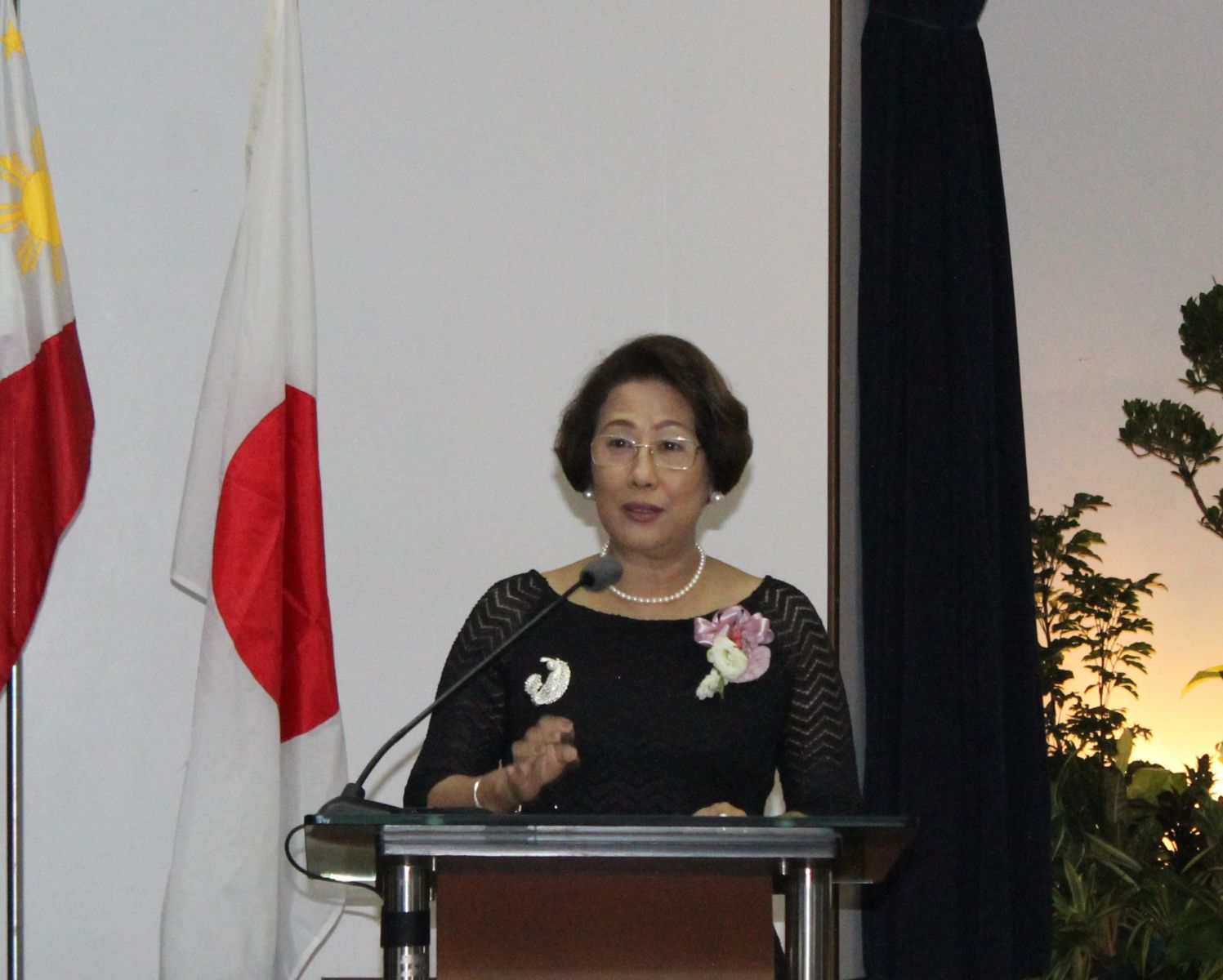 Dr. Gaspillo shared her experiences as a student and a young mother who looked at the study abroad program as a welcome opportunity to pursue her PhD in Chemical Engineering at Nagoya University under the RONPAKU-JSPS (Japan Society for the Promotion of Science) and the Philippines' Department of Science and Technology joint program.

Dr. Gaspilo said that "the challenge of physical separation and homesickness was no longer an issue because of the overwhelming research works ahead to be completed within three months." She said that being an alumna of Nagoya University, she feels so privileged.
She advised the students to "always welcome the challenges ahead." and " not to be frightened." She encouraged them to "always be inspired, be engaged, and to direct all energies to finishing priority tasks that matters to their study."

NUAL-PH is the 14th and the youngest branch to be established among overseas NUAL branches. It was formally established on 20 December 2014 at EDSA Shangrila Hotel, and was graced by Prof. Michinari Hamaguchi, the then President of Nagoya University, and Dr. Shoichiro Toyoda, the President of NUAL.

Dr. Gaspillo took the opportunity to give an update on the activities of the NUAL-PH Branch. She said that as part of the branch mission, the NUAL-PH carries out several activities. For 2018, she said that the association focuses on the societal contribution of alumni through organized lectures and symposium as the basis for promoting information and human exchange to enhance the reputation of NU. The following have been accomplished by NUAL-PH:

-On May 26, 2018, a Research Forum and Information Session was organized by De La Salle University (DLSU) Civil Engineering Department and NUL-PH with the theme " Civil Engineers at the Forefront of Infrastructure Development." Prof. Hikaru Nakamura, Head of Concrete Laboratory, NU was the Keynote Speaker. Other speakers were Filipino researchers at NU from the Department of Public Works and Highways, the Subic Bay Metropolitan Authority, and DLSU graduates.

-On June 30, 2018, the NUAL-PH Graduate School of International Development (GSID) Forum was held at Holy Name University in Bohol. The Research Conference theme was on International Development, Human Security and Well- Being, and all of the speakers were NU alumni.

Dr. Gaspillo added that an upcoming symposium to be held at the Philippine Genome Center in UP Diliman, Quezon City on 8 December 2018 is being organized by the Philippine Genome Center, NUAL-PH and the Philippine California Advanced Research Institutes (PCARI). The symposium theme is "Genomics on the Road from Agriculture to Health and Beyond" Invited speakers are NU alumni headed by Dr. Cynthia Saloma Dr. Marianne Bautista, UP Diliman; Dr. Barbara Caoili, Dr. Lerma Maldia of UPLB, Dr. Eva Cutiongco De La Paz of UP Manila; and Dr. Reynante Ordonio of the Philippine Rice Research Institute.

Meanwhile, the UPLB NU alumni was tasked to organize the symposium in the first quarter of 2019. In January 2019, NUAL-PH will have its general assembly and encouraged the NU alumni to attend this activity as a way to continue the Meidai identity (written by E.Cedicol with inputs from Dr. Gaspillo).

===========
Dr. Pag-asa Gaspillo was Vice Chancellor for Science and Technology of De La Salle Campus in Canlubang, Laguna, Philippines before her retirement in September 2017.