2019/10/31
Nagoya University holds 2019 Entrance Ceremony for incoming doctoral students; highlights need to train emerging leaders in government and academe
Los Baños, Laguna - The need to continuously train emerging leaders in government and academe was highlighted at the 2019 Nagoya University Entrance Ceremony for the Transnational Doctoral Program for Leading Professionals in Asian Countries held on 22 October 2019 at SEARCA Umali Auditorium, UPLB Campus, Los Baños, Laguna.

In his welcome and opening message, Professor Kazuhito Kawakita, Vice President of Nagoya University, emphasized that Nagoya University is mandated "to develop and nurture the most outstanding people" and that in order to maintain international competitiveness, it is highly important to work hard to carry out top-level research. He proudly announced that Nagoya University has a high reputation in Asia with its initiatives at the regional and international scenes.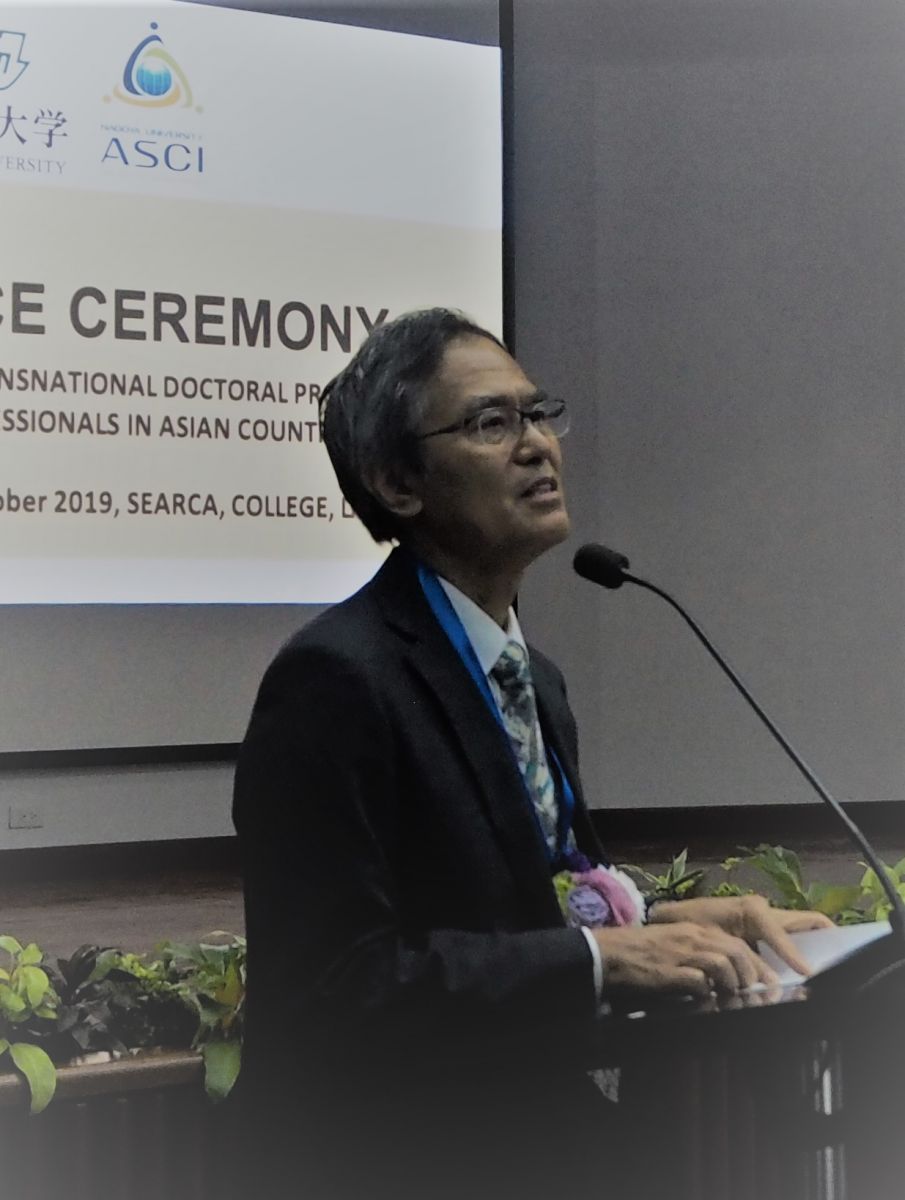 Professor Kazuhito Kawakita

With the establishment of satellite campuses in selected Asian countries, Nagoya University is now able to address the concern of many middle and high-level officials and key staff in government and academe to pursue doctoral degrees without leaving their posts for longer periods of time. He stressed that through the newly established international science platform called Nagoya University International Station for Tropical Agricultural Sciences (ISTAS), the
involvement of institutions such as the University of the Philippines Los Baños (UPLB), International Rice Research Institute (IRRI), the Southeast Asian Regional Center for Graduate Study and Research in Agriculture (SEARCA), the Royal University of Agriculture (RUA) in Cambodia, and the Visayas State University (VSU) in central Philippines, are expected to be more vigorous in pursuing more collaborative research and academic activities in Asia.

On the other hand, Prof. Fumio Isoda, Director of the Nagoya University Asian Satellite Campuses Institute, represented at the Ceremony by Prof. Akira Yamauchi, Vice Dean of the Graduate School of Bioagricultural Sciences (GSBS), emphasized that Nagoya University has been contributing to the development of human resources in Asia, thus producing government leaders such as Ministers, Vice-Ministers, Directors, among others. He welcomed the incoming doctoral students to the university and encouraged them to work hard to obtain the degree. He said that with the main station of ISTAS located in UPLB and with sub-station at VSU, there is no doubt that the students would be able to hone their knowledge and skills in research and international development with the participation of outstanding faculty, researchers, and alumni working together. Thus, Nagoya University has allocated more research budget to the station to strengthen the research and human capacity development by promoting collaborative research among UPLB, IRRI, and the affiliated institutions of Satellite students. In addition, he said that more slots of full-time scholarships like MEXT scholarship have been allocated to those component universities and research institutions.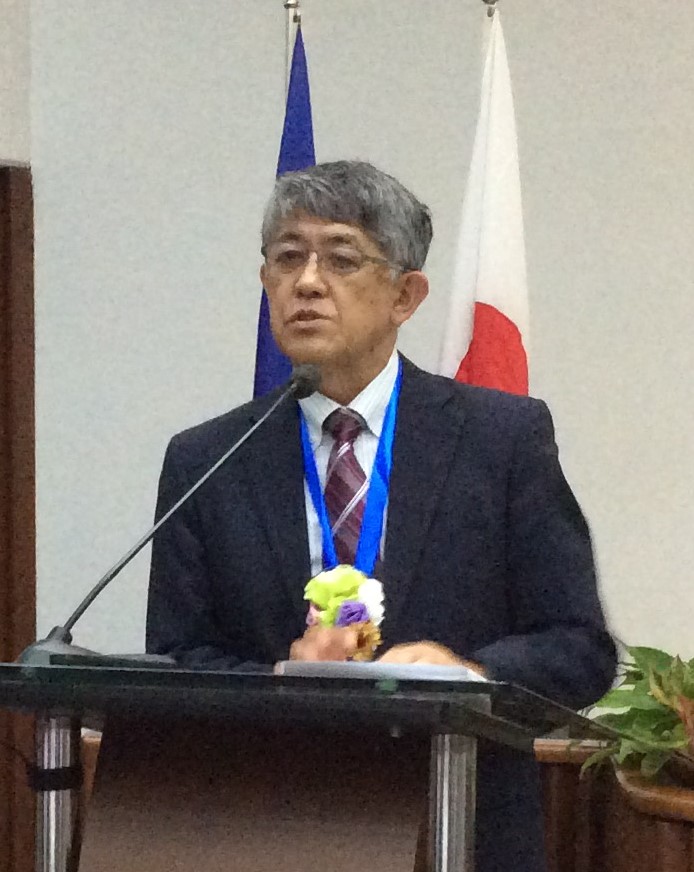 Professor Akira Yamauchi

Meanwhile, Ms. Natsumi Yoshida, Advisor of Japan Information and Culture Center (JICC) of the Embassy of Japan in the Philippines, congratulated the four new students for obtaining admission to the university and expressed appreciation of the achievements that the Nagoya University satellite campus in the Philippines has done so far since its establishment in 2015. She said that she is proud to be an alumna herself of the Graduate School of International Development (GSID) and that she was happy to see one of her mentors in the ceremony. She said that the JICC looked forward to more updates and information about the activities of the NU satellite campus in the Philippines and hoped for even stronger relationship between the two countries: Japan and the Philippines.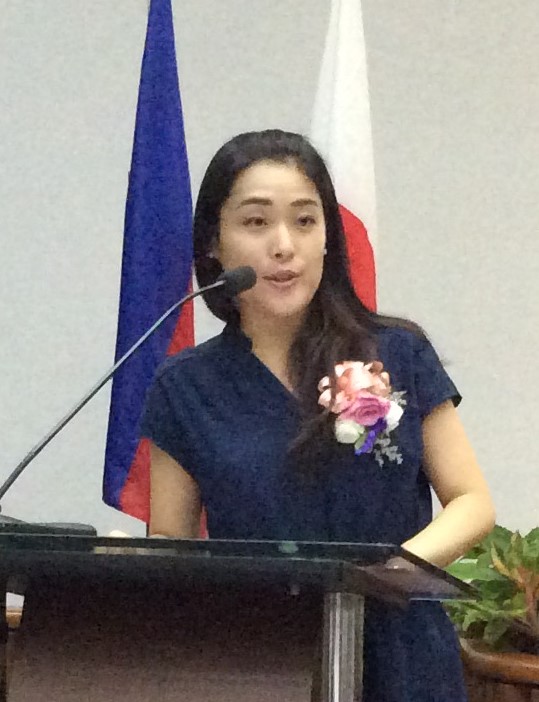 Ms. Natsumi Yoshida

UPLB Chancellor Sanchez extended his congratulations to the four new doctoral students of Nagoya University, two of whom are faculty and researcher, respectively, of UP Diliman and UPLB: namely: Mr. Nelson Cainghog, faculty member, UP Diliman; Ms. Joy B. Banayo, University Researcher I, UPLB; Mr. Anniver Ryan P. Lapuz, Senior Science Research Specialist, Forest Products Research and Development Institute-Department of Science and Technology; and Ms. Ma. Christina Campita, Senior Science Research Specialist, Department of Agriculture, Region V. Chancellor Sanchez said that it has been three years since Nagoya University admitted the first Filipino student to the program in a ceremony held in March 2016 and was amazed that at the 2019 ceremony NU was already celebrating the completion of his doctoral studies. And this was followed by another student who also finished within three years.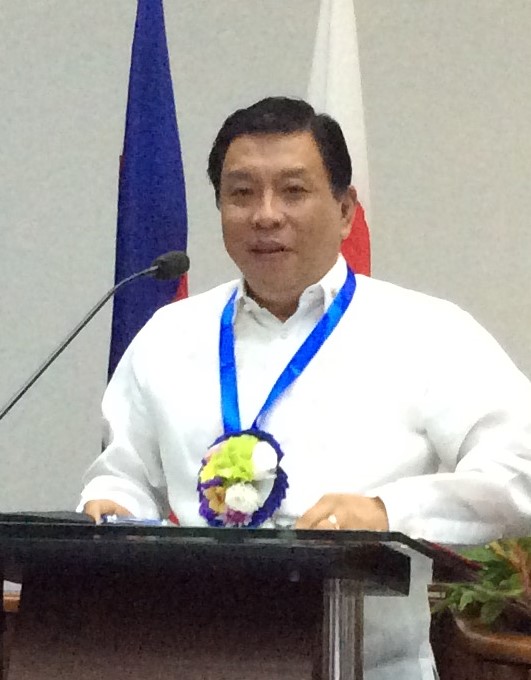 Chancellor Fernando Sanchez, Jr.

He was extremely delighted that NU is now beginning to see the fruits of the collaboration and reiterated the commitment of UPLB to support NU through its satellite campus. He encouraged the ongoing and new students to be very diligent and to make little sacrifices as they look forward to reaping the benefits of being students and eventually NU alumni under the program.

Dr. Glenn B. Gregorio, Director of SEARCA, said that as the new leader of a regional organization such as SEARCA, he was expecting stronger collaboration with Nagoya University not only in joint scholarships but also sooner in joint research projects. He shared the new vision of SEARCA in its 11th Five-Year Plan to be a "Bigger, Better, and Smarter SEARCA." He enjoined the new NU doctoral students to focus and work hard to obtain the degree in due time.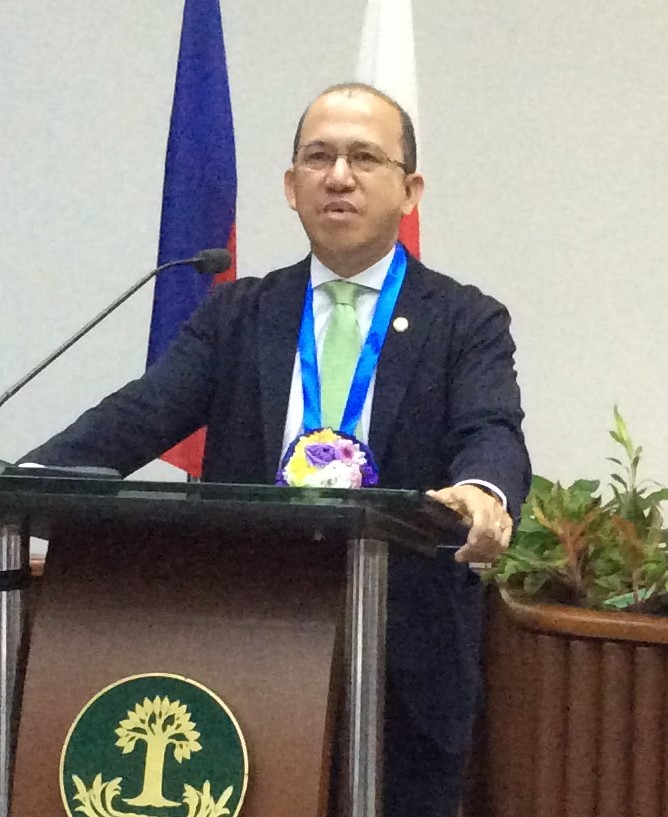 Dr. Glenn B. Gregorio

Dr. Cynthia P. Saloma, President of the NU Alumni-Philippines Branch and Professor and Executive Director of the Philippine Genome Center based in UP Diliman, shared to the incoming students "the unique place an Entrance Ceremony plays in the life of a university student in Japan." She said that in Japan, "Entrance Ceremonies are celebrated as the start of a journey." She stressed that "graduate school is a personal journey where a student needs to draw out from
within himself or herself the grit to finish what he or she has set out to do. She wished the four new students the best in their studies and looked forward to seeing them becoming members of the NU alumni-Philippines.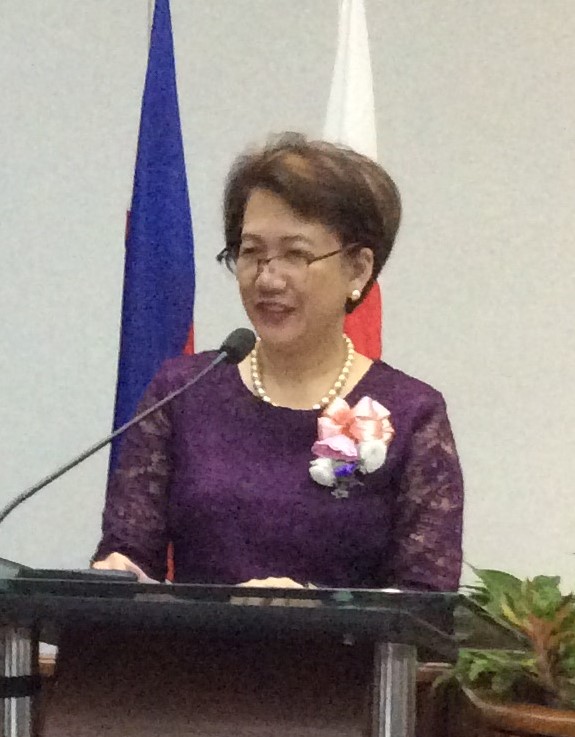 Dr. Cynthia P. Saloma

Prof. Satoru Tsuchikawa, dean of GSBS, and Prof. Wataru Kusaka, professor of GSID, presented the overview of their respective graduate schools and introduced the new students. (Story in separate feature article).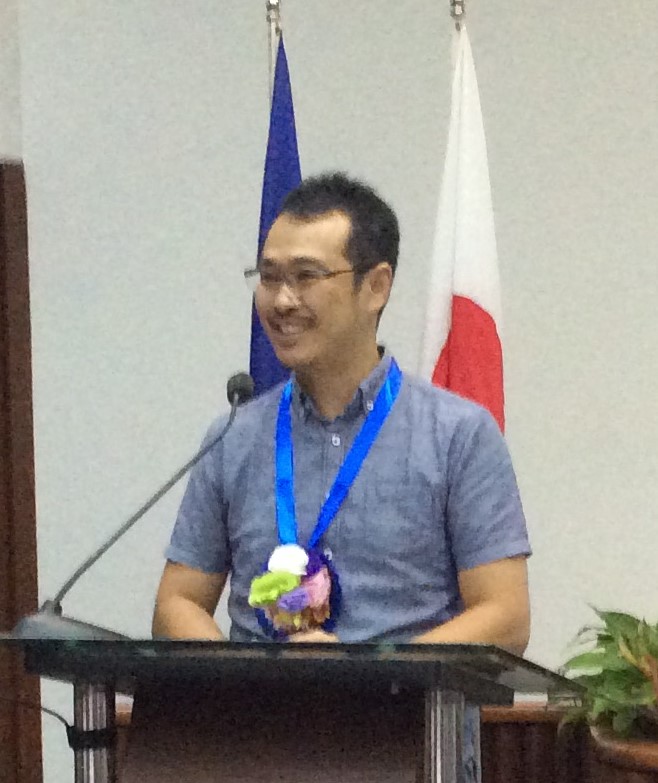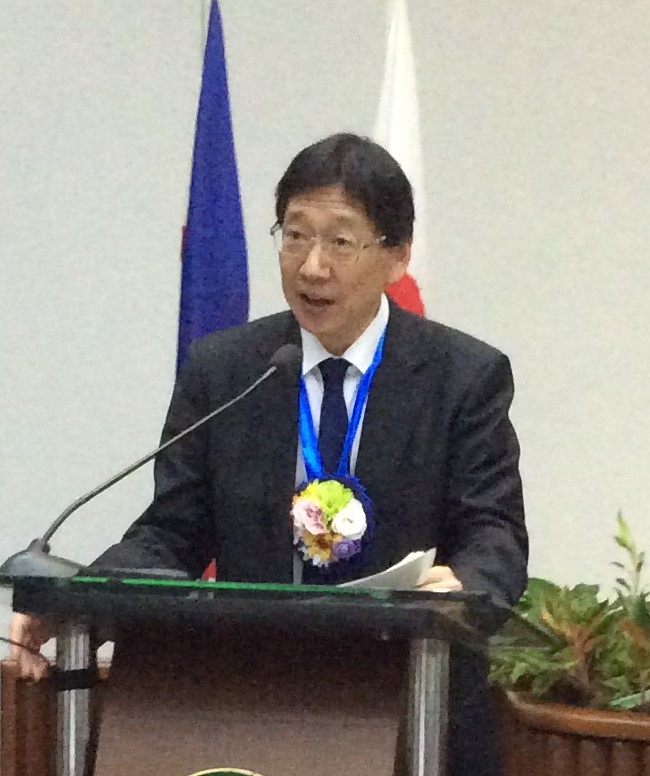 Professor Wataru Kusaka Professor Satoru Tsuchikawa

The two new alumni of the NU-GSBS, Dr. Ronilo O. De Castro and Dr. Dennis M. Gilbero, presented a brief summary of their respective researches before giving inspirational messages to the new and ongoing NU students (Story in separate feature article).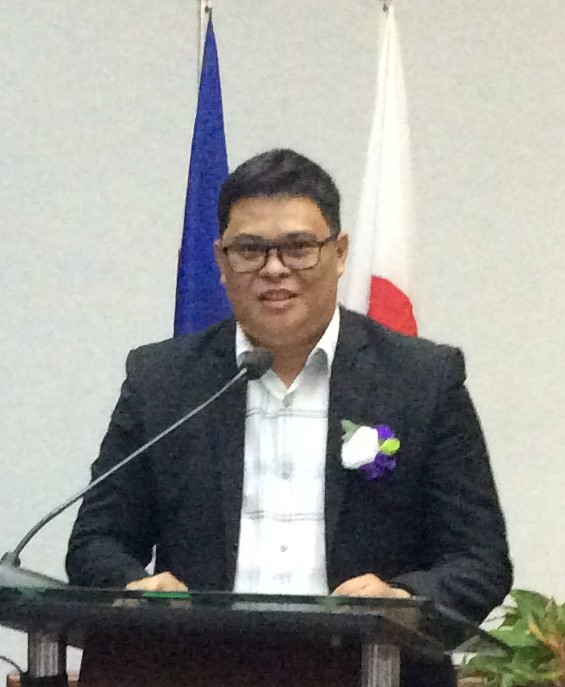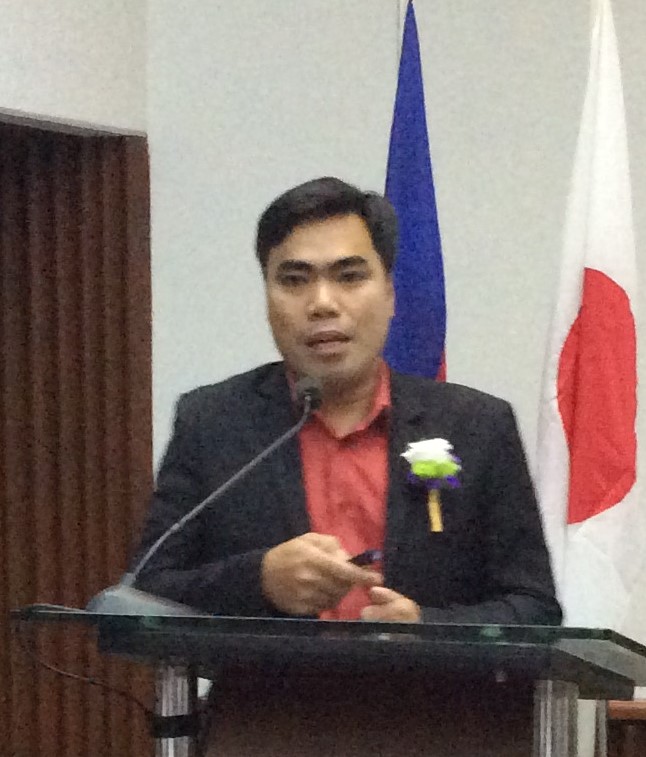 Dr. Dennis M. Gilbero Dr. Ronilo O. De Castro

Prof. Satoshi Ohkura, in his closing remarks, lauded the two new alumni for their achievements, and congratulated the newly admitted students. He wished them the best in their studies and hoped to see them graduate after three years.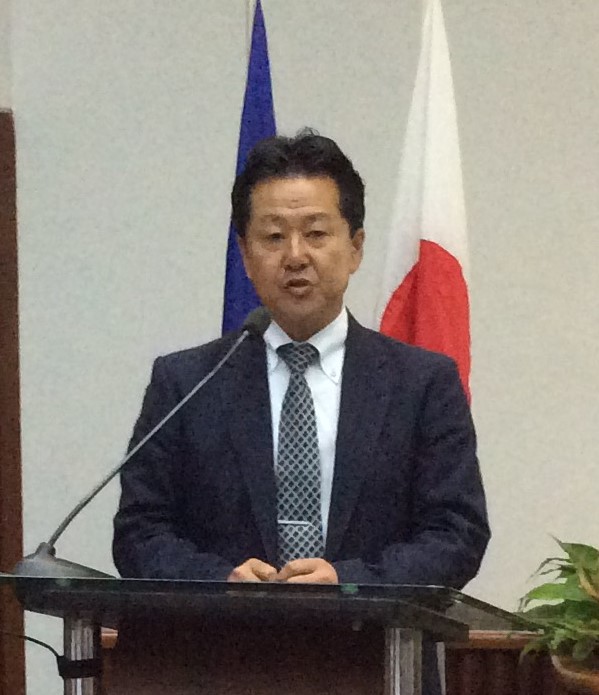 Professor Satoshi Okura

Since April 2016, 12 doctoral students have been admitted to the NU transnational programs (3 GSID; 9 GSBS). Of the 12, two had already completed their programs. (contributed by E. Cedicol)