The Nagoya University Asian Satellite Campuses Institute-Philippine Campus conducts the Virtual Entrance Ceremony for Fall Semester 2020
NEWS
2020/11/24
The Nagoya University Asian Satellite Campuses Institute-Philippine Campus conducts the Virtual Entrance Ceremony for Fall Semester 2020
The Nagoya University Asian Satellite Campuses Institute (NUASCI) through its Philippine satellite campus based at the University of the Philippines Los Baños (UPLB), in cooperation with the Office of the UPLB Chancellor, conducted the virtual Entrance Ceremony on 19 November 2020 to welcome the fifth batch of students admitted in the Fall Semester at the NU Graduate School of International Development (GSID) and the Graduate School of Bio-agricultural Sciences (GSBS). This is the first time the ceremony was held online due to restrictions on face-to-face gatherings due to the COVID-19 pandemic. Newly admitted doctoral students are Ms. Rowena Dorado, Assistant Professor of the UPLB College of Economics and Management; and Mr. Darwin Landicho, Plant Quarantine Inspector-Laboratory Analyst II of the Bureau of Plant Industry (BPI).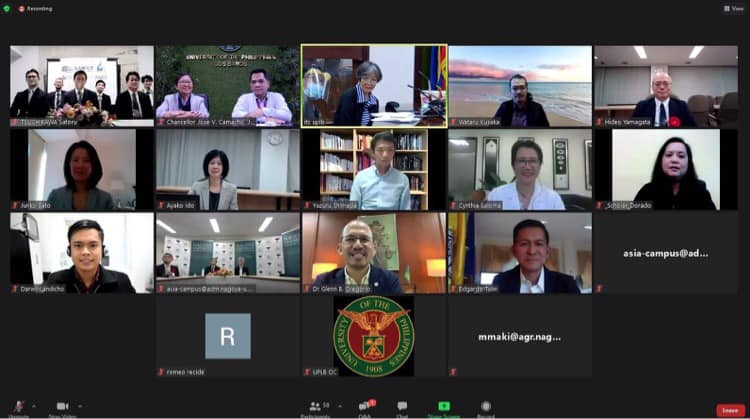 (Source) UPLB Facebook

Speakers at the ceremony that welcomed the students, participants and guests were Professor Dr. Seiichi Matsuo, Nagoya University President and Chancellor of the Tokai National Higher Education and Research System (THERS); Dr. Jose V. Camacho, Jr., UPLB Chancellor; Ms. Junko Sato, Director of Japan Information and Culture Center (JICC) of the Embassy of Japan in the Philippines; Dr. Cynthia P. Saloma, President of Nagoya University Alumni-Philippine Branch; Dr. Glenn B. Gregorio, Director of the Southeast Regional Center for Graduate Study and Research in Agriculture (SEARCA); Mr. Romeo Recide, Representative of International Rice Research Institute (IRRI)-Philippines, representing Director General Dr. Matthew Morell; and Dr. Edgardo Tulin, President of the Visayas University (VSU). More than seventy participants and guests composed of NU ongoing NU students, alumni, officials of UP and UPLB, officials and program officers of SEARCA, Philippine Carabao Center and other local agencies, and professors and advisers of NU students attended the virtual ceremony. All speakers congratulated the new students and expressed words of encouragement, inspiration for a successful completion of their programs.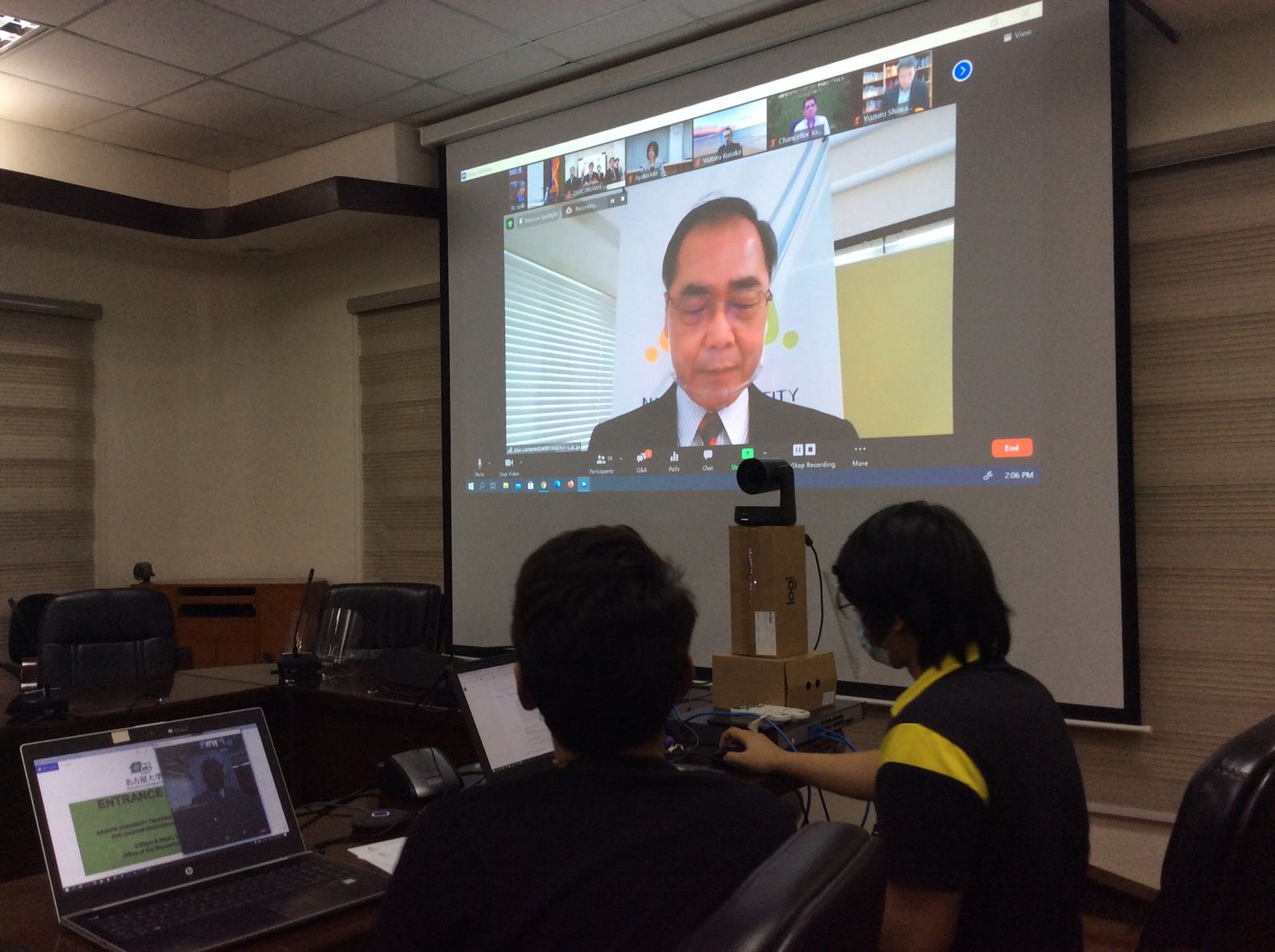 Dr. Akira Yamauchi, Vice Dean of GSBS, presented the current status of the programs of ongoing doctoral students and briefly explained the Phase II of the transnational doctoral program which is the International Station for Tropical Agriculture Science (ISTAS) showing the network of international and regional agencies as well as partners in Japan and Asia including Cambodia and the Philippines. He also briefly mentioned about the ongoing discussion with UPLB about the proposed NU-UPLB Central Laboratory for Crop, Animal and Dairy, and Forestry Sciences.

Two deans of NU graduate schools introduced and welcomed the new batch of students. Dr. Hideo Yamagata, Dean of GSID, briefly mentioned the current profile of GSID and proceeded on formally introducing Ms. Rowena Dorado. Dr. Satoru Tsuchikawa, Dean of GSBS, also briefly introduced the profile of GSBS before introducing Mr. Landicho. Ms. Dorado and Mr. Landicho thanked NU for the opportunity to join Nagoya University and expressed enthusiasm to complete their programs in three years.

In his closing message, Prof. Fumio Isoda, Director of the Asian Satellite Campuses Institute, encouraged the students to manage their time well and expressed understanding for those whose programs have been delayed due to quarantine lockdowns brought about by the COVID-19 pandemic. He enjoined the students to contact the satellite office as well as the advisers without hesitation whenever they encounter problems in their studies. He also hoped that the pandemic will be over soon so that NU professors could visit the Philippines and students could travel to Nagoya as well. (Written by E, C. Cedicol)